VOLUNTEERS NEEDED for COVID-19 Vaccination drive-thru, here's how to sign up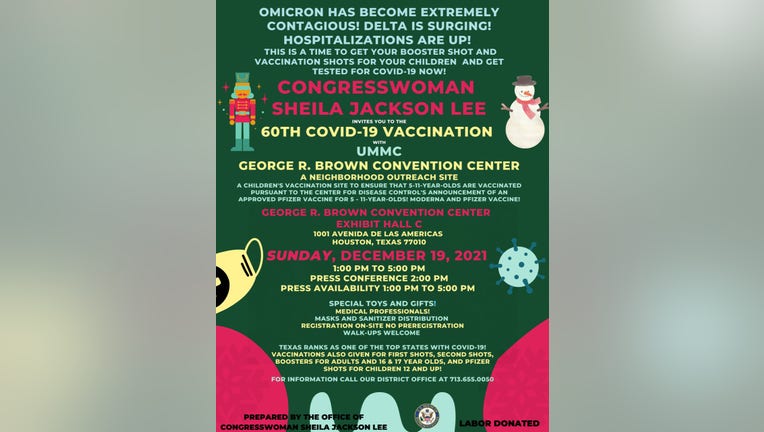 article
HOUSTON - The holidays are right around the corner, but COVID-19 remains an ongoing threat. 
And with the new Omicron variant, many city leaders are doubling down on their efforts to ensure residents and their children are vaccinated. 
LATEST: Omicron variant detected in 89 countries; WHO says cases rapidly doubling
For this reason, Congressman Sheila Jackson Lee, in conjunction with the United Memorial Medical Center, is hosting a COVID-19 vaccination drive Sunday, Dec. 19, 2021, at the George R. Brown Convention Center. 
The event is aimed to ensure children especially are protected from contracting COVID-19 but will also be distributing toys and other special gifts for the holidays. 
From 9 a.m. to noon, the morning drive-thru event will be held in the back of the convention center, with a line beginning at Chartes St. and McKinney. 
SIGN UP FOR FOX 26 HOUSTON EMAIL ALERTS
The second event will begin at 1 p.m. with a press conference at 2 p.m. inside the convention center. This program will be a program for a select number of children.
To ensure the drive-thru goes smoothly, the event is in need of some additional volunteers to help organize and distribute to families/children in need from 8 p.m. to 4 p.m. Volunteers for the afternoon event will help with organization, distribution, and entertaining the children, some of whom are in need.
If you'd like to volunteer, click here.