University of Houston investigating a social media threat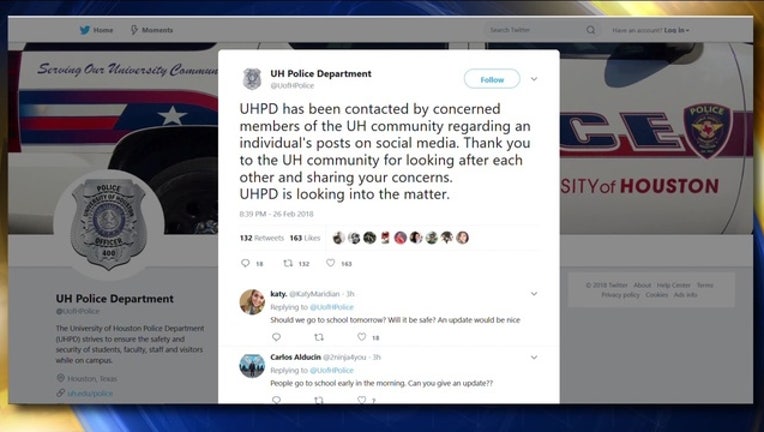 article
HOUSTON, TX - University of Houston police say that they are now investigating a possible social media threat. Last night, the University of Houston police tweeted out this statement around 8:30 pm, stating that officers are looking into concerns about an individual's post on social media.
The university hasn't officially issued any alerts or warnings. Campus is still scheduled to be open as usual. But UH police does confirm they're investigating the posts that concerned students. But UHPD does confirm they're investigating the posts that concerned students.
At this time, there hasn't been confirmation the person posting is a UH student and the posts reviewed didn't directly threaten the UH campus. However, the people circulating the young man's posts do believe he attends UH. In his social media posts, he talks about wanting to die and says he'll kill everybody. People in that twitter thread then say they've reported him to UH. Here's the school's response on Twitter last night:
"UHPD has been contacted by concerned members of the UH community regarding an individual's posts on social media. Thank you to the campus community for looking after each other and sharing your concerns.  UHPD is looking into the matter."
Students and even some parents responded very concerned asking if they should stay home from school today, and if there are any updates. There have been no other new tweets or responses from University of Houston since last evening.  
Keep informed on this developing story with FOX 26 updates.