Palestine state flag flies at United Nations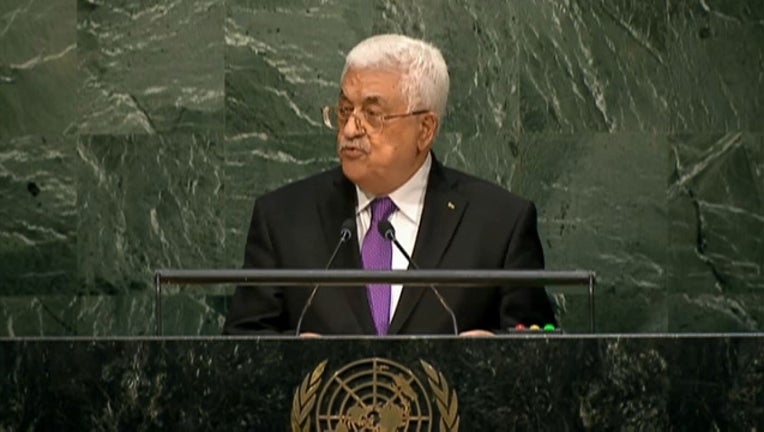 article
UNITED NATIONS (AP) — Palestinian President Mahmoud Abbas declared before world leaders Wednesday that he is no longer bound by agreements signed with Israel and called on the United Nations to provide international protection for Palestinians, in the most serious warning yet that he might walk away from engagement with the Jewish state.
Abbas, however, stopped short of accompanying his threat with a deadline or giving any specifics, leaving room for diplomatic maneuvers to refocus the world's attention on the Israeli-Palestinian conflict.
Abbas did not say how he will move forward. He also avoided mentioning of a mainstay of Israeli-Palestinian relations — security coordination between his security forces and Israeli forces in the West Bank against a shared enemy, the Islamic militant group Hamas.
Israeli Prime Minister Benjamin Netanyahu was quick to denounce Abbas' speech.
In a statement issued by his office, Netanyahu said Abbas' "speech of lies encourages incitement and unrest in the Middle East."
Netanyahu called on Abbas to "act responsibly" and answer his proposal for direct negotiations with Israel without any preconditions.
"The fact that time after time he (Abbas) does not respond is the best proof that he has no intention of reaching a peace agreement," the statement said.
Abbas' comments reflect deep frustration, even desperation. It came after years of paralysis in attempts to negotiate Palestinian statehood with Israel and several months after Netanyahu formed a right-wing government that has continued settlement expansion on war-won lands the Palestinians want for their state.
With negotiations frozen, Abbas has failed to come up with a political alternative.
His hopes of creating a Palestinian state through negotiations with Israel have been derailed. A new poll shows that a majority of Palestinians want the 80-year-old leader to resign and dissolve his self-rule government, the Palestinian Authority. Many no longer believe a two-state solution is realistic and support political violence.
Abbas had threatened to drop a "bombshell" in the speech — prompting speculation he would sever ties with Israel over its settlement expansion and other hard-line policies.
On Wednesday, he said that Israel's refusal to commit to agreements signed "render us an authority without real powers."
"As long as Israel refuses to cease settlement activities and to the release of the fourth group of Palestinian prisoners in accordance with our agreements, they leave us no choice but to insist that we will not remain the only ones committed to the implementation of these agreements, while Israel continuously violates them," Abbas said.
"We therefore declare that we cannot continue to be bound by these agreements and that Israel must assume all of its responsibilities as an occupying power," he declared. He did not elaborate on which agreements.
If Abbas were to go through with his demand that Israel, as the occupying power, assume responsibility for the Palestinians, this would require dissolving the Palestinian Authority and the resignation of Abbas. He didn't mention any of this in his speech.
In his speech, Abbas accused Israel of "repeated, systematic incursions upon Al-Aqsa Mosque aimed at imposing a new reality," warning that such actions create an explosive situation.
"It is no longer useful to waste time in negotiations for the sake of negotiations; what is required is to mobilize international efforts to oversee an end to the occupation in line with the resolutions of international legitimacy," he said. "Until then, I call upon the United Nations to provide international protection for the Palestinian people in accordance with international humanitarian law."
Palestinian analyst Hani al-Masri in Ramallah said Abbas is trying to attract attention and pressure Israel.
"This is a threat not a plan," he said. "Abbas has no plan, otherwise he could have spelled it out in his speech and could have told the world he is going to do this and that and asked them for understanding and support."
Thousands of Abbas supporters gathered in the city centers in several West Bank cities as they listened to Abbas' speech. They cheered up when he said he is no longer bound by the signed agreements with Israel, waving Palestinian flags.
In a symbolic moment Wednesday, Abbas raised the flag of the state of Palestine at the United Nations for the first time, with a promise that it will be raised soon in Jerusalem, "the capital of our Palestinian state."
More than 300 ministers, diplomats and well-wishers crowded into the rose garden at U.N. headquarters where a temporary flagpole had been erected for the ceremony which took place following Abbas' speech.
The Palestinians campaigned for a General Assembly resolution that was overwhelmingly approved on Sept. 10 allowing U.N. observer states to fly their flags alongside those of the 193 U.N. member states. The Holy See and the Palestinians and are the only two U.N. observer states.
In a harshly worded essay ahead of his Wednesday address to the United Nations, the Palestinian president said a new multilateral approach to the Israeli-Palestinian conflict is needed since direct negotiations with Israel have repeatedly failed.
Abbas said the model should be based instead on the type of negotiations that took place in the Balkans, Libya and Iran.
"The peace process must be multilateral. The same pattern of negotiations imposed for years will not work because Israel is the occupying power," he wrote in an op-ed in The Huffington Post.
While Abbas' Palestinian Authority rules over most of the West Bank Palestinian population, Israel still controls much of the territory.
___
Laub reported from Amman, Jordan. Associated Press writers Mohammed Daraghmeh in Ramallah, Ian Deitch in Jerusalem and Edith M. Lederer at the United Nations contributed to this report.