Mattress Mack provides way for families of Houston Cougars to attend NCAA tournament
HOUSTON - Jim "Mattress Mack" McIngvale is in Birmingham supporting the University of Houston in the NCAA Tournament.
His impact on UH'S players – with his latest efforts through his Name, Image and Likeness agreement with them through Gallery Furniture – is remarkable. The Cougars players are able to access funds through this NIL that they can use to help pay for their families to attend the NCAA Tournament in Birmingham.
MORE: Top seed Houston beats Northern Kentucky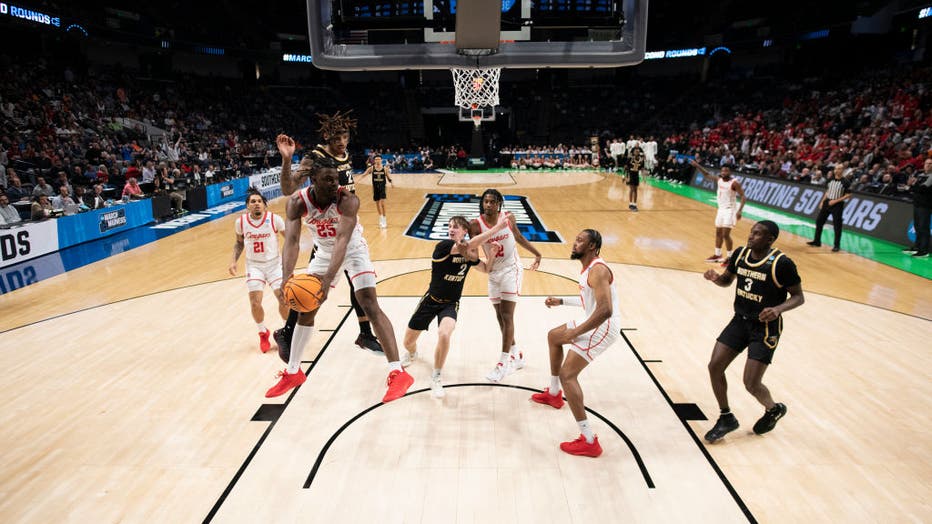 BIRMINGHAM, AL - MARCH 16: Jarace Walker #25 of the Houston Cougars rebounds in the second half against the Northern Kentucky Norse during the first round of the 2023 NCAA Mens Basketball Tournament held at Legacy Arena at the BJCC on March 16, 2023
This NIL agreement was facilitated through LinkingCoogs, an NIL collective benefiting UH Cougars athletes.
"Well you know I'm a big supporter of the Cougar NIL program. So with that money we've been able to bring in a lot of the parents of all of the players to the game and some of their friends," McIngvale said Thursday night. "A lot of the player sent me notes last week thanking us for using the NIL money to bring in their parents to the game. So they're here watching the game, and it should be very exciting."
Families expressed their gratitude at the game on Thursday night.
MORE: Houston Cougars basketball team signs 7-figure NIL deal with Mattress Mack
"It's a great deal to our family. It allowed us to get here without worrying about other things. So this is a big deal for us, and we're very appreciative," said Elvin Shead, the father of UH guard Jamal Shead.
Marcus Sasser's father, Marcus Sasser Sr., called it a "blessing" and thanked Mattress Mack for "having a good heart".
"That's a blessing that Mattress Mack has done for everybody in the UH families and everything. And I don't take anything for granted," Sasser Sr. said.
Lataisha Arceneaux, the mother of UH guard Terrance Arceneaux, says she was excited when she heard the news.
"I'm just so thankful and grateful that he's willing to do this for the parents," she said. She added, "it helps kind of ease your mind about the cost of getting to and from the games. You know, any help with the expenses is always a great thing."
The Houston Cougars beat Northern Kentucky 63-52 on Thursday night.