J.J. Watt a hit, of course, with the kids at local Gatorade event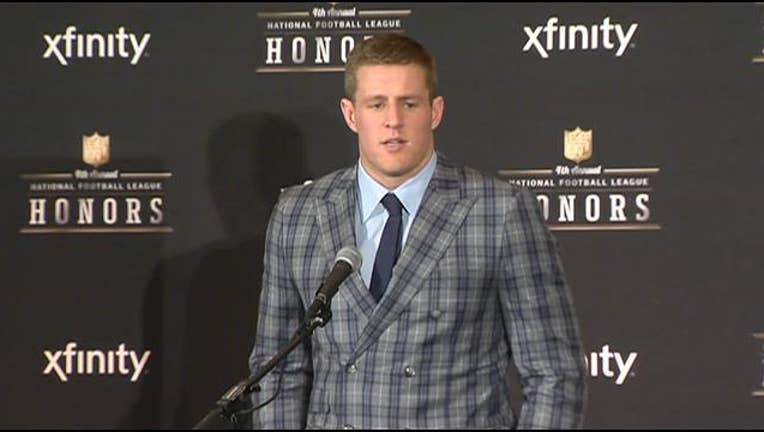 article
J.J. Watt may be the reigning NFL Defensive Player of the Year. He may have just come back from the ESPYS. He may have had pictures with such stars as Jennifer Aniston and Britney Spears.
But he'll always love giving back to the kids.
The Texans star defensive end showed up as part of a Gatorade event over at the Houston Texans YMCA. He helped run the kids through drills and threw passes to them. Watt's been known for his versatility both offensively and defensively, so that prompted one kid to ask Watt why he won't play quarterback for the Texans. His answer? "They won't let me," he joked.
Watt was asked about his quarterbacking skills afterwards.
"Not very good," Watt said with a laugh. "I'm going to blame it on the size of the ball because I think the ball's a little small, so I'm not used to it. But (my passes) were pretty poor. I threw some bad passes today. I'm going to watch the film, assess it, and see if I can get better for next practice."
Watt was all smiles on this day. While he showed the kids some football drills, they showed him how to do the "Nae Nae" dance. At one point, he was so overcome by the giddiness of it all that he laid on his back laughing on the ground as the kids continued to try to teach him how to dance. During his interviews with the media, several of the kids chanted, "J.J. Watt! J.J. Watt!"
It's all a part of why he enjoys the game and enjoys giving back.
"It's crazy, man," Watt said. "It will never stop being crazy. It's the coolest thing in the world. It's absolutely crazy. And that's what makes all the hard work and the effort and the early mornings, late nights... that's what makes everything worth it. They're still chanting. It's unbelievable."
And with that, with a huge smile and a laugh, he shouted back at the kids, "I'm right here! I haven't gone anywhere!"
Of course, Watt is looking forward to Texans training camp starting on Friday.
"I'm excited," he said. "I just can't wait to get back out there with the guys. I can't wait to get back to practicing. Training camp's the greatest because it's a chance for you to try new moves, try new things, see what's successful, see what's not. And then, the camaraderie: getting your guys back together, getting that team chemistry going, and starting on a new mission."
But on this day, it was all about giving back.
"I've got the greatest job in the world, man," Watt said. "I get to come out here and play a game every day and I get to do stuff like this (Gatorade event). I mean, I realize how fortunate I am to be in the situation I'm in and I realize that someday, it's all going to end. I don't know why, but this year, I realized it more than ever, the fact that someday, this is all going to be over and someday, I'm not going to have all these great opportunities that I have, so I'm just trying to take advantage of everything I can and enjoy every moment I can.
"Days like today, when you can put smiles on kids' faces, and then you can go out there and you can work hard, like I said, I get paid to go chase the football around. It's pretty (darned) awesome, man."