Houston police officer shoots man at graduation party who allegedly showed up with knife
HOUSTON - A man who allegedly showed up to a graduation party with a knife was shot and killed by a police officer who responded to the north Houston home on Saturday night, police say.
The shooting occurred around 11:18 p.m. in the 100 block of Palmyra Street.
CLICK HERE TO DOWNLOAD THE FOX 26 NEWS APP
According to police, the reportee said they were having a graduation party when a man who lives nearby showed up with what appeared to be a knife and confronted them about the volume of the music.
"And the male basically threatened that they need to turn the music down or he will be back," said HPD Executive Asst. Chief Ban Tien.
Police responded to the scene. According to HPD, police were talking to the partygoers at the scene when the man who had allegedly displayed a knife earlier showed up.
SUGGESTED: Argument in Sugar Land escalated to shooting outside hospital, 1 injured
Police say the man began advancing toward them, and they began backing up to create more distance between them.
They ordered the man to drop the knife multiple times, but he didn't comply, according to police.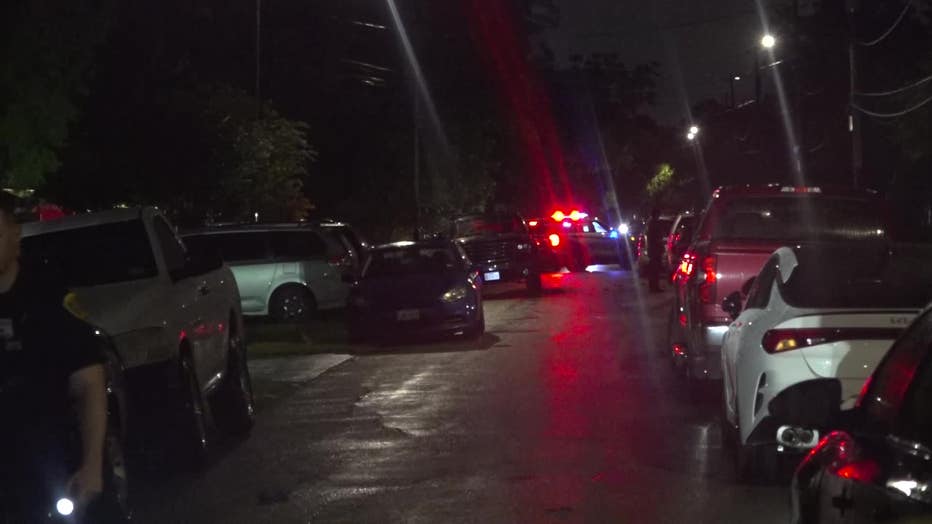 An officer-involved shooting under investigation on Palmyra Street.
"As such, the officer began to backup, try to continue to create distance, up until the point where the officer back into a vehicle that he had nowhere to go, and he subsequently discharged his firearm. It is believed that he discharged at least more than once and struck the male multiple times," Executive Asst. Chief Tien says.
Police say the officer began to render aid, but the man was pronounced dead after being transported to the hospital.
SUGGESTED: Houston murder suspect arrested in Bellville after attempted abduction, chase: police
As is customary in officer-involved shootings, the HPD Special Investigations Unit, the Internal Affairs Division, the Houston Forensic Science Center and the Harris County District Attorney's Office are investigating.
"I do want to re-emphasize the scene is extremely preliminary and our investigation is extremely preliminary and all the information I have is just a snapshot of what we have," Executive Asst. Chief Tien says.
Police say they are continuing to canvas for video and speaking with witnesses. They encourage anyone with information to contact them.