Houston police chief calls on courts to 'stop pussyfooting' after second officer-involved shooting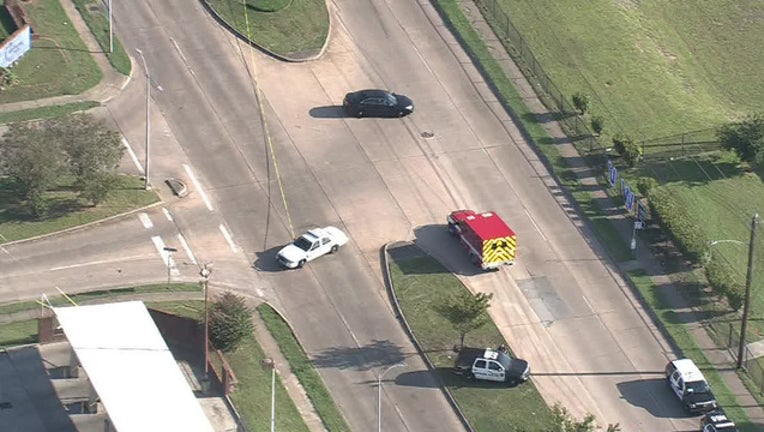 HOUSTON (FOX 26) - Houston's police chief called on Harris County criminal courts to "stop pussyfooting" after another officer involved shooting Monday morning left a suspect dead.
Chief art Acevedo voiced his frustration about the ease with which some violent criminals have been able to bond out of jail and commit more crime.
"We need the courts to do their job and to stop pussyfooting with violent criminals—period," said Houston Police Chief Art Acevedo. "These judges—if they want my cops—God forbid it's one of our community members. Every time somebody gets injured, I'm gonna call them out by name."
Acevedo threatened to call out judges who grant bond to violent offenders while speaking at the scene of an officer involved shooting on South Gessner Monday. The shooting happened as one of his officer is recovering from being shot Thursday by a suspect who was out on bond.
Court records show that suspect—Brandon Bell, 17—paid zero dollars to bond out of jail two weeks ago after allegedly carjacking a woman at gunpoint.
"If you lived in a high crime area and you knew that these judges were gonna let a violent criminal go in one door and within a matter of hours or a day or two get out on a low bond, do you want to testify against them?" asked Acevedo.
Acevedo voiced his frustrations at the South Gessner scene where he says a man with a gun ran towards Valley West Elementary School.
Police say they chased the man on foot, and he turned and shot at them. That's when they returned fire, killing the man just outside of the elementary school campus. The school was put on lockdown.
"I had literally just dropped my son off maybe 10 minutes before, so I zoomed back down here, and when I came, it was all blocked off, and then the yellow tape really scared me," said Joy Brandon, the mother of a fifth grader at the school.
"I just heard somebody shooting, and then I came out," said Husam Alabdalla who works at the nearby Lucky Way Food Store. "The cops over there—they trying to get that person."
No officers were injured in Monday's shooting, but the police chief using the opportunity to speak out about "restorative justice."
"We cannot put people's lives at risk because of this love affair with restorative justice," said Acevedo.
Bail reform—passed this year by Harris County Commissioners Court—made it easier for suspects charged with misdemeanors to bond out.
In Brandon Bell's case, records show he bonded out on a misdemeanor trespassing charge September 3, before investigators could collect enough evidence to charge him with felony aggravated robbery with a deadly weapon.
Judge Darrell Jordan who approved Bell's bond told Fox 26 he was just following Texas law.
"If there is a trespassing case or something like that—then that person will be released on a general order bond," said Jordan. "The bond amount will say $100, but they pay nothing."
Police say Bell was killed by the officer he shot.