Harris Co. Judge staffers indicted on felony charges over contract receive bond
HOUSTON - Alex Triantaphyllis, Wallis Nader and Aaron Dunn - three members of Harris County Judge Lina Hidalgo's inner circle, now have "mugshots".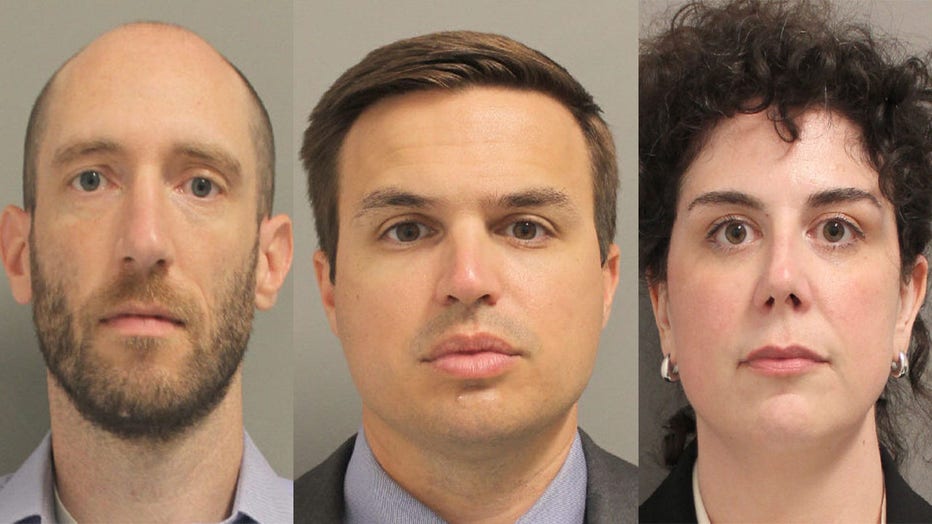 Aaron Dunn (L), Alex Triantaphyllis (C), and Wallis Nader (R) are facing felony criminal indictments over a controversial multimillion dollar contract.
Each appeared in 351st District Court for arraignment on felony charges of tampering with government documents and misuse of official information in connection with an alleged $11 million dollar bid-rigging scheme.
RELATED: Hidalgo staffer implicated in 'bid-rigging' scandal gets new, higher paying County job
Bond was set at $3,500 for all three.
Prosecutor Mike Levine says the criminal charges followed weeks of both investigation and deliberation.
"We are going to follow the law, follow the evidence. We had a grand jury that met for a long time and heard from a lot of witnesses. They were dedicated. They were focused. They paid a lot of attention," said Levine.
RELATED: Harris County Judge grilled following 'bid rigging' allegations
While defendant Wallis Nader left the courtroom without offering comment, attorneys for Trianatphyliss and Dunn pledged to clear the names of their clients.  
"The DA's office brought charges. They have to prove them beyond a reasonable doubt. I represent an innocent man and we look forward to fighting it," said Dane Ball, attorney for Aaron Dunn.
"There's been no wrongdoing here. We are glad to be in a fair and objective forum finally. There's been one side of the story released and reported on. We are excited to have our side of the story out there, and we are confident it will show our client will be vindicated," said Marla Poirot, attorney for Alex Triantaphyllis.
All three defendants will continue their jobs at Harris County with Lina Hidalgo saying, "I don't think it's a coincidence that unfair accusations are being levied at my team in the middle of my reelection campaign. I do not and will not cave to bullying and dirty tricks."
Rice political analyst Mark Jones says the crime wave, primary election debacle, and corruption allegations have driven Hidalgo's favorability rating into negative territory with a 15-point decline in just the past five months.
RELATED: Search warrants served at Harris County offices unsealed
"All of these negative things are beginning to add up and erode her support among the broader electorate. These surveys were done before these indictments came out against three of her staffers, so I suspect if we polled today, the numbers would be a little lower," said Jones referencing polling the Texas Hispanic Policy Foundation.
Dunn, Nader and Triantaphyliss were ordered to return to court in 60 days after their attorneys have fully reviewed all the evidence that will likely be used against them.
RELATED: Harris Co. Judge Lina Hidalgo staffers indicted over contract
Hidalgo released a statement on Tuesday expressing confidence that her team would be cleared:
I've made my feelings known about this investigation, which has already dragged on for months. Various news reports have shown that it's proceeding with what is, at best, a serious misunderstanding of the facts. I'm very confident that, when the facts are known, my team will be cleared. I've held myself to the highest ethical standards and that's reflected in my unprecedented commitment not to accept money from anybody who does business with the county. The people I choose to serve in my office understand that code of ethics.
I ran against a style of politics in Harris County that worked more for the individuals who held office than for the people who voted for them. I don't play the game. And that's threatening to the powers that be. I think the notion is that if they come after me on what is my strength -- the ethics of this office and my own -- that they can score political points. I don't think it's a coincidence that unfair accusations are being levied against my team in the middle of my re-election campaign.
I do not, and I will not, cave to bullying or political dirty tricks. I have not seen anything to suggest that my staff did anything but work tirelessly for the people of Harris County. They will remain on my team.