Harris County driver charged with intoxication manslaughter after 3 men killed in East Freeway crash
A 24-year-old driver has been charged in a crash along a Harris County highway that left three men dead.
According to the sheriff's office, Jonathan Lazo Jr. was charged with three counts of intoxication manslaughter.
MORE: Man killed in 'targeted' drive-by shooting in Houston's Galleria area
The crash occurred around 12:30 a.m Friday in the 16800 block of the I-10 East Freeway.
Authorities say the crash occurred while three men were standing behind an Infinity G37 that was stopped in the shoulder with its emergency flashers on.
The sheriff's office says Lazo Jr. was driving a Chevrolet Tahoe eastbound when he went into the shoulder, striking the car and the three men. Investigators say Lazo Jr. continued into a grassy median, striking several small trees before his vehicle rolled onto its side.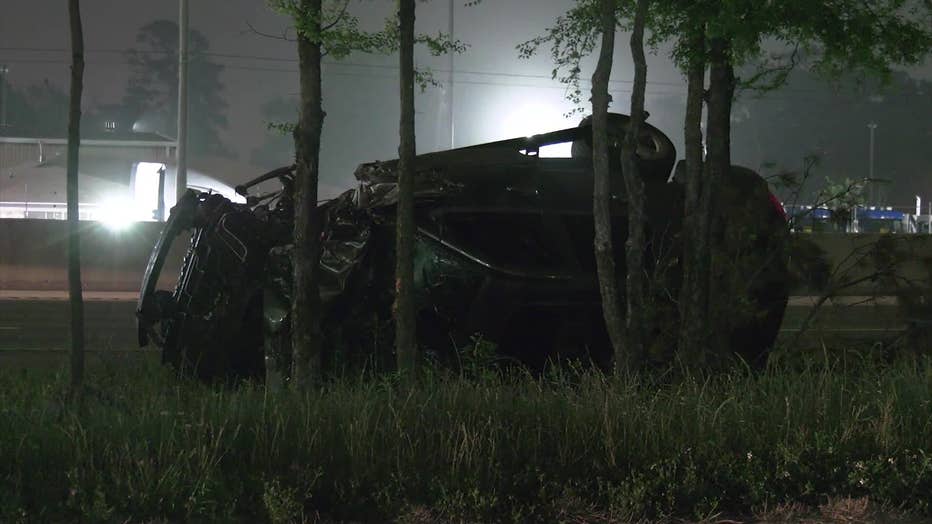 The Harris County Sheriffs Office investigates a deadly crash along the East Freeway.
The three men were pronounced dead at the scene. Their identities have not been released, but authorities say they appear to be in their 20s.
MORE: Man, 81, accused of killing wife, daughter with ax
The sheriff's office says Lazo Jr. was detained and showed signs of intoxication or impairment. He was later charged.
The HCSO Vehicular Crimes Division is investigating.