Halfway to Halloween: Haunted house open this weekend in Houston
HOUSTON - Halloween is coming a little early this year and the Thirteenth Floor just couldn't wait to bring you the best haunt this spring.
On Friday and Saturday, the Thirteenth Floor will be hosting its Halfway to Halloween event for this weekend only in Houston 
SUGGESTED: Things to do Mother's Day Weekend: Ed Sheeran's 'The Mathematics Tour', Art Bike Festival, Crab Festival
Tickets for the event are only $24.99 and get you access to all the attractions at the event. You can get your ticket for various time slots on the day you select.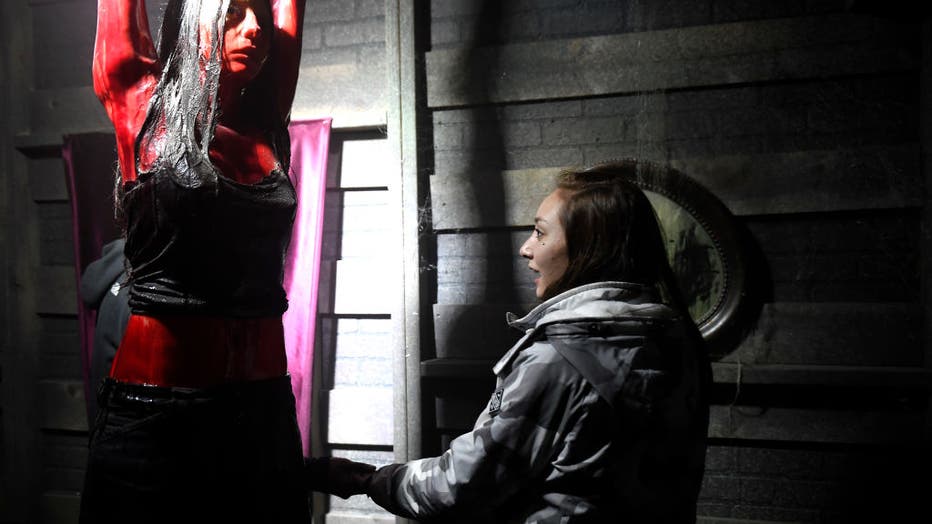 DENVER, CO - OCTOBER 2: 13th Floor Haunted House in Denver, Colorado on October 2, 2019. (Photo by Joe Amon/MediaNews Group/The Denver Post via Getty Images)
The attractions at this year's Halfway to Halloween are:
Chop House - A criminal outcast wandered into the old meat processing plant. After finding the company's mascot costume and a freshly oiled chainsaw, the unpredictable maniac begins the hunt for the next slaughter.
Legends of the Deep - When an eerie call was heard across the decks, it was as if the sea came alive and infected everyone aboard. The ship finally capsized, claimed by the sea, but the Great Old One had other plans. The steamship and its infected crew still drifts at sea with one mission- to claim as many souls as they can for their dark lord.
All Hallows Eve - A cursed group of undead trick-or-treaters rises up from their shallow graves once a year on Halloween in search of blood, guts, and candy! As the fall spirit infects others, their numbers grow.
If you want more out of your scare, you can also head to the boutique, to buy exclusive mech to commemorate the experience.
DOWNLOAD THE FOX 26 APP BY CLICKING HERE
Also, stop by to take Halloween-themed photos at selfie stations with scary creatures lurking in the background.
For more information on how to get tickets to the haunt of the spring, click here.