FBI releases surveillance photo of stolen SUV linked to abducted 13-year-old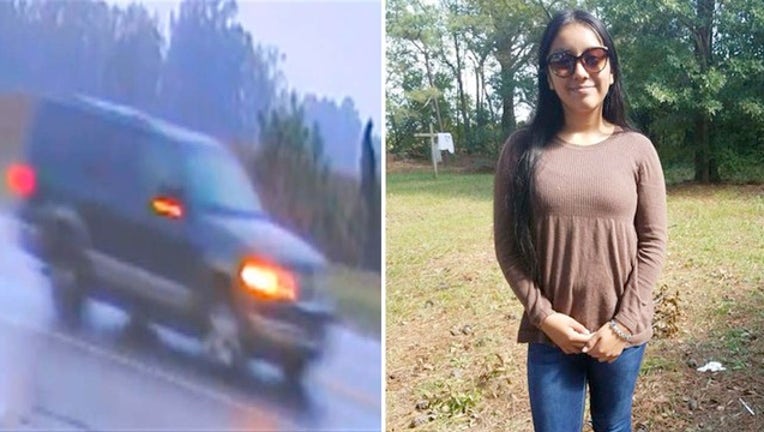 article
CHARLOTTE, NC (FOX 46 WJZY) - The FBI and local authorities have released a new surveillance photo of the stolen SUV that has been linked to the abduction of a North Carolina teenager. 
Authorities said the photo shows the SUV wanted in connection with the kidnapping of 13-year-old Hania Noelia Aguilar. The FBI announced on Tuesday that they were offering a $15,000 reward for anyone who can provide information that leads to the location of Aguilar. 
Related: FBI offers $15,000 reward in case of missing Lumberton teen
The 13-year-old was reportedly snatched from her home in the 3500 block of Elizabethtown Rd. just before 7 a.m. on Monday while she was waiting for the rest of her family to come outside and drive to school. The 911 call was made at 6:54 a.m. by a neighbor when a relative ran over to get help. The information was transferred to the Lumberton Police Department who received the call at 6:58 a.m.
The witness said a man dressed in all black wearing a yellow bandana around his face forced Hania into a relative's vehicle that was parked in the driveway and took off.
The car is a green 2002 Ford Expedition with the SC license plate NWS-984. The paint on the hood is peeling, and there is a Clemson sticker in the rear view window. 
Hania is a Hispanic teen, 5'0" weighing about 126 lbs. She has black hair and brown eyes, At the time of the abduction, she was wearing a blue shirt with flowers and blue jeans.
Hania's mother asks whoever took her daughter to please bring her back home.
According to the FBI, after uncovering the photo of the SUV, they're now asking anyone in Lumberton with a video surveillance system to save the video and call the tip line at 910-272-5871.
If you see the suspect vehicle, or have any potential information on Hania's whereabouts, you are asked to the the Lumberton Police Department or 911.