Dozens of migrants discovered in tractor-trailer that broke down in Texas
GANADO, Texas - Dozens of migrants were discovered in a tractor-trailer that broke down just north of Ganado, Texas, many of them in need of medical attention, according to Jackson County Sheriff's Office.
JCSO says around 7:10 a.m. on Friday, the disabled box truck was found at Highway 59 northbound and County Road 202. Sheriff's deputies found a crowd of illegal immigrants being held inside the trailer.
After opening the trailer, several of the subjects ran away. Authorities were able to detain 10 people inside the trailer.
Jackson County Sheriff Kelly Janica states that the truck held between 70-100 persons, according to those interviewed. 
While those who stayed in the trailer were apprehended, others were found in brush and adjacent cornfields.
CLICK HERE FOR MORE ON IMMIGRATION
A few migrants were taken to the hospital due to dehydration and minor injuries.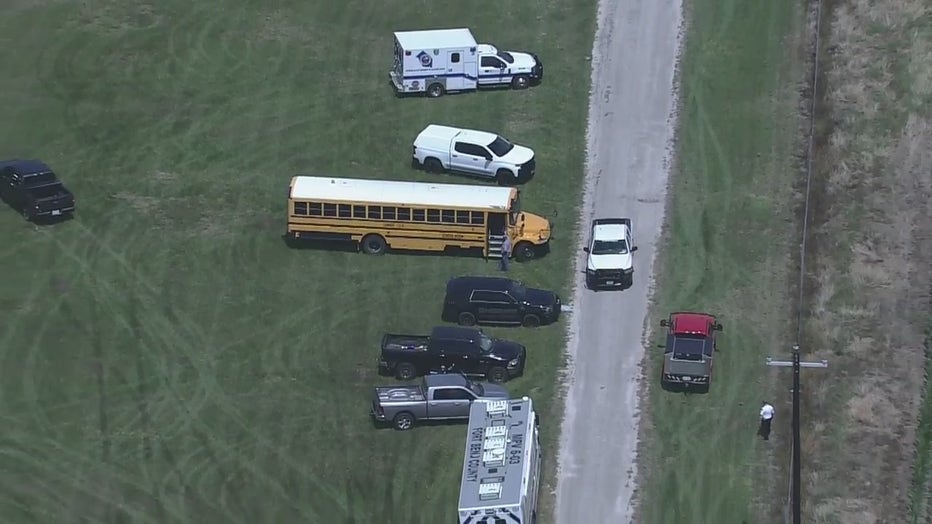 By noon, 46 migrants had been taken into custody and are being processed by U.S. Border Patrol. Seven were taken to Jackson County Hospital for dehydration. 
There are still dozens believed to be on foot in the area. Several law enforcement teams are still searching. 
READ MORE: Border agents in Texas find unaccompanied toddler abandoned near US-Mexico border | 'He doesn't really see undocumented students as people,' says UH sophomore
This remains an active scene with several law enforcement, medical, and fire department response teams working in the area.
Agencies assisting are Edna P.D., Ganado P.D., Jackson County Constables Pct. 1 & 2, Goliad County Sheriff's Office Taskforce Lone Star, Wharton County Sheriff's Office, Victoria County Sheriff's Office, US Border Patrol, Department of Homeland Defense, Texas PS Highway Patrol and Marine Unit, Corpus Christi Fire Department SETRAC and Fort Bend County MPV (Mobile Medical Command Units), Jackson County Hospital District EMS, Ganado Fire Department and ESD-3.