Boil water notice issued for large part of Harris County, Houston area
HOUSTON - The City of Houston has issued a boil water notice for the city's main water system.
TYPE YOUR ADDRESS TO SEE IF YOUR HOME IS IMPACTED BY THE WATER BOIL NOTICE
According to the notice, the water pressure dropped below the Texas Commission on Environmental Quality's required minimum of 20 PSI during a power outage at the East Water Purification Plan around 10:30 a.m. Sunday.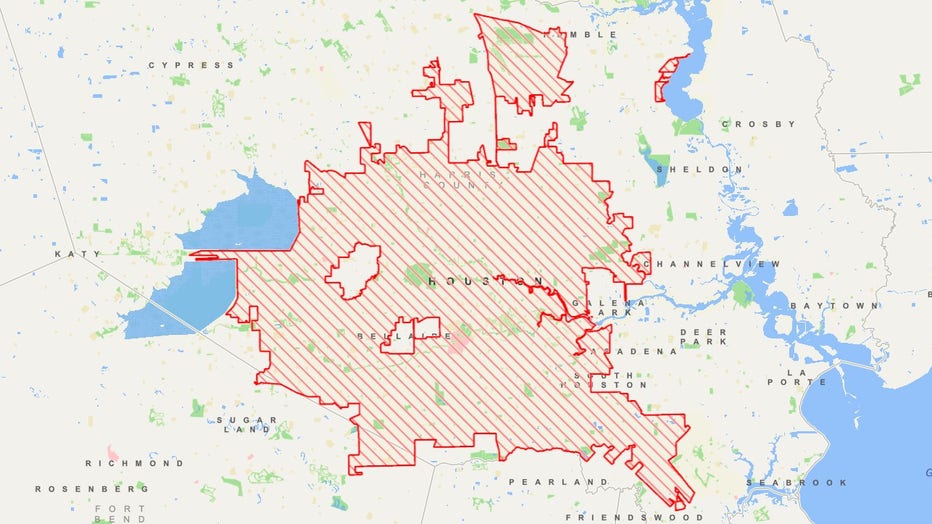 (Photo Courtesy to Houston Public Works)
Houston Public Works has advised the public to not drink the system water without boiling it first to ensure all harmful bacteria and microbes are killed. Bring all water to a boil for at least two minutes, then let it cool before using.
SCHOOL CLOSURES DUE TO WATER BOIL NOTICE
In response to the boil notice, Governor Greg Abbott announced Sunday that the state would be rapidly sending resources to Houston. 
"The State of Texas is immediately responding and deploying support to Houston as they work to get a safe supply of water back online," Governor Abbott said. "We have been in contact with Mayor Turner to offer the full support of the state, and we're currently working to fulfill the city's request for help with rapid turnaround of water sample results. I thank TDEM and TCEQ for swiftly responding to help address this issue. We urge those that the boil water notice affects to continue heeding the guidance of local officials and take adequate precautions when boiling and using water. Together, we will ensure our fellow Texans are supported while the city's water supply returns."
You can find an interactive map of the area impacted by the boil water notice here.
While the notice affects a large portion of the city, it does not impact Kingwood, Huffman or Clear Lake City Water Authority customers.
Out of an abundance of caution, the City of Bellaire announced they also issued a boil water notice.
MORE STORIES OUT OF HARRIS COUNTY
The notice also impacts a portion of Fort Bend County, specifically the Blue Ridge area serviced by the East Water Purification Plant located at 2342 Federal Road #2276, Houston, TX 77015.
When will the boil water notice be lifted?
The Houston Mayor's Office said Monday morning that the TCEQ approved Houston Public Works's water sampling plan. 
Workers began collecting samples in the morning to send to the lab for processing. City officials say they are waiting on test results from the TCEQ before the notice can be lifted.
The public water system officials say they will notify all customers when the boil water notice is rescinded and all water is safe for drinking and human consumption.
The Mayor's Office said the earliest the notice could be suspended would be Monday night or early Tuesday morning.
What does the boil water notice mean?
Water should be boiled for drinking, cooking, showering, and brushing your teeth. Officials also say to avoid drinking water from the fridge and using ice from an automatic ice machine in your fridge.
If you are without power to boil water, it is advised you use bottled water for consumption.
MORE: What does a boil water notice mean? What do I need to do?
The City asks that you share this information with all the other people who drink this water, especially those who may not have received this notice directly.
If you have questions concerning this matter, you may contact 311.