Valencia's 2 homers lead A's over fading Astros 4-3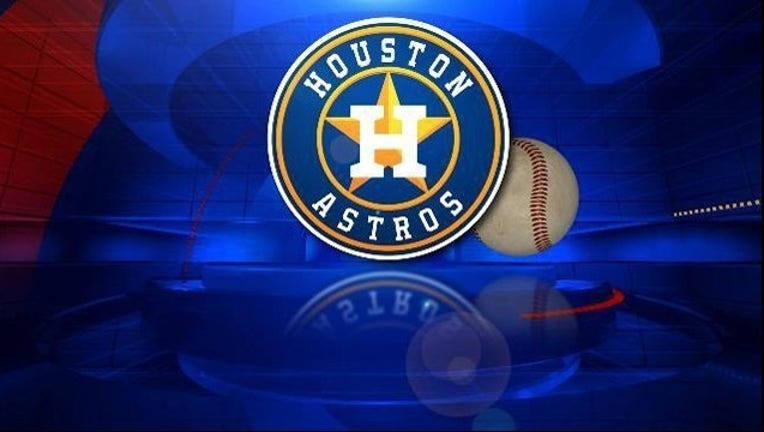 HOUSTON (AP) — The Houston Astros can't find a way to end their slide.
Danny Valencia homered twice, including a go-ahead two-run shot in the eighth inning, to help the Oakland Athletics to a 4-3 victory Friday night that sent the scuffling Astros to their fifth straight loss.
The recent skid has allowed the first-place Texas Rangers to move 2 1-2 games ahead of the Astros in the AL West.
"We've found a way, a lot of different ways to just miss or have a couple of tough losses," manager A.J. Hinch said. "That's not how you draw it up. I think that game was ours to win and we didn't do enough to win which has been the way the week's gone."
Oakland trailed by a run with one out and one on in the eighth when Valencia launched a pitch from Pat Neshek (3-6) into the seats in left field to make it 4-3.
"It's like the worst feeling in the world when you look back," Neshek said. "It's about as mad as I've been on the mound in my life. It's an awful feeling."
Valencia had a solo shot in the fourth inning, his second career multihomer game and the first since 2010.
"I was capitalizing on mistakes, just like any guy in our lineup would have done," Valencia said. "Fortunately for me, I got some hitter's counts. It just felt good that we won and that I came through for the team."
Houston has gone 4-12 so far in September. Hinch hopes his team has a short memory and can put this stretch behind it.
"We've picked a rough time to have a stretch where it's been rocky," he said. "The good news is we do have more baseball to play."
The Astros had a 3-0 lead after three innings thanks to two RBIs from Jed Lowrie and a home run by Chris Carter.
Josh Reddick and Valencia hit back-to-back homers to start the fourth and cut the lead to 3-2.
Drew Pomeranz (5-5) struck out two in a perfect seventh for the win and Ryan Dull pitched a scoreless ninth for his first career save.
Houston starter Mike Fiers allowed two runs and five hits in six innings in his first appearance at Minute Maid Park since his no-hitter on Aug. 21, against the Los Angeles Dodgers. Reddick's homer was the first earned run Fiers allowed in 17 1-3 innings at home since being traded to Houston.
Felix Doubront went six innings for Oakland, yielding five hits and three runs with four strikeouts.
The Astros couldn't do anything after building the early lead. Jake Marisnick singled with two outs in the fourth before Oakland retired the next 15 batters. Colby Rasmus walked with two outs in the ninth, but pinch-hitter Preston Tucker struck out to end the game.
An RBI single by Lowrie gave Houston a 1-0 lead in the first. Carter's 19th homer — and Houston's 200th this season — came in the second inning to make it 2-0.
Jose Altuve singled to start the third and scored on a sacrifice fly by Lowrie to push the lead to 3-0. Altuve got a mouth full of dirt and almost knocked down home plate umpire Toby Basner when his momentum from the slide pushed him through the umpire's legs.
Sam Fuld robbed rookie Carlos Correa of a hit in the third when he made a diving catch in midair for the first out of the inning. Fuld smiled and shook his head after getting up and an incredulous Correa shouted "No way" before heading to the dugout.
TRAINER'S ROOM
Athletics: OF Billy Burns was out of the lineup for the eighth straight game because of tightness in his right hamstring, but he entered the game as a pinch-hitter in the seventh inning. ... C Stephen Vogt, who hasn't played since Sept. 6 because of a groin injury, is improving and worked out before Friday's game.
Astros: OF Carlos Gomez missed his sixth straight game with intercostal discomfort. Hinch said he's getting better, but is probably still a few days from returning because he isn't yet able to swing a bat.
REMEMBERING MILO
The Astros honored Hall of Fame broadcaster Milo Hamilton, who died Thursday at age 88, with several tributes. They had a pregame ceremony to remember him where they announced that the press box at Minute Maid Park would now be known as the "Milo Hamilton Press Box." Also on Friday, the Astros wore black circular patches with the letters "MH" in white block letters on their uniforms to honor the man who broadcast their games from 1985-2012. In the press box there was a shrine with pictures of Hamilton and a flower arrangement.
UP NEXT
Oakland's Sonny Gray (13-7, 2.56) opposes former Athletic Scott Kazmir (7-10, 2.63) when the series continues Saturday. Gray is 4-2 with a 1.88 ERA in six career starts against the Astros. Kazmir, who was traded to Houston in July, allowed seven hits and four runs in a loss to Oakland on Sept. 8.