Texans beat Jets for 3rd straight win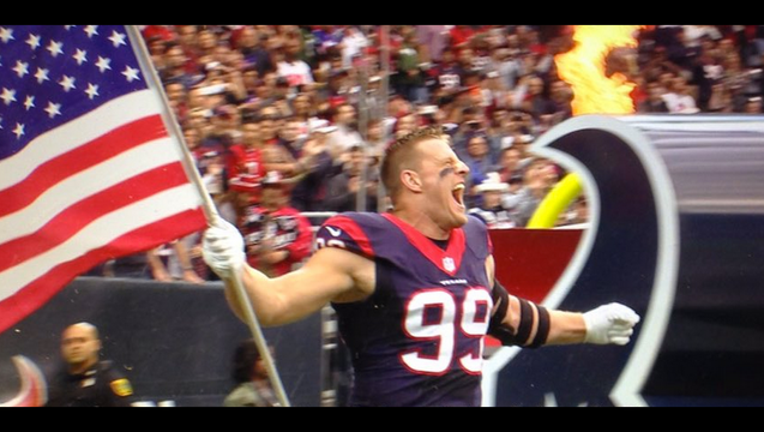 HOUSTON (AP) — The New York Jets had two chances to tie Sunday's game against the Houston Texans.
Both times, Ryan Fitzpatrick threw an interception to end the drive, and those wayward tosses helped seal a 24-17 win for the Texans.
T.J. Yates tossed two TDs to DeAndre Hopkins, who had 118 yards receiving, and Alfred Blue caught a touchdown pass from receiver Cecil Shorts to help Houston (5-5) to the victory.
The game was tied in the third quarter when the TD pass by Shorts made it 17-10. Yates and Hopkins linked up for a 20-yard score on the next possession.
Fitzpatrick, who played after having surgery on his non-throwing thumb on Nov. 13, got New York within 24-17 with a touchdown run with 4 1/2 minutes left, but they couldn't close the gap because of his turnovers. Fitzpatrick was 19 of 39 for 216 yards with a touchdown against the team he started 12 games for last year.
"I didn't play well," Fitzpatrick said. "There's a lot of throws I needed to make that I didn't make. Obviously having two chances there at the end and not coming up with a touchdown on one of those drives hurts."
The Texans didn't manage a first down in the fourth quarter, but held on for the win thanks to interceptions by Eddie Pleasant and Andre Hal.
The Jets (5-5) have lost four of five games, after opening the season 4-1.
"It's very frustrating," receiver Brandon Marshall said. "But ... you have to pick yourself back up and fight. It's going to be tough. We don't control our own destiny."
Coach Todd Bowles wasn't happy with Fitzpatrick's performance on Sunday, but said his job wasn't in jeopardy.
"I'm still committed to Ryan," Bowles said. "I just don't think he played very well."
But the coach is searching for answers to end the skid.
"I'm extremely upset today," he said. "I'm not going to take it out here; we'll discuss it in-house."
The Texans (5-5) have won three games in a row for the first time since 2012. And they did it with Yates, who threw for 229 yards in his first start since Jan. 15, 2012, in the playoffs for Houston as a rookie.
Yates, who was signed on Oct. 28 after Ryan Mallett was released, started in place of Brian Hoyer who was out with a concussion.
Hopkins beat Jets cornerback Darrelle Revis repeatedly before the cornerback left in the third quarter with a concussion.
Bowles said he isn't concerned with the play of Revis after his tough day.
Shorts, a quarterback early in his college career at Mount Union, took a lateral from Yates and tossed a 21-yard touchdown pass to a wide-open Blue to make it 17-10 with about eight minutes left in the third quarter.
Shorts was the star of that entire drive, grabbing a 16-yard reception on third-and-13 before grabbing a 35-yard reception on the next play. He took a direct snap and ran for 5 yards two plays before the TD throw.
Bowles said they were surprised by the Wildcat formation at first, but got used to it after a couple of plays.
"They were prepared," he said of his team. "They just didn't execute in key situations."
The Texans made it 24-10 when Hopkins caught a 20-yard touchdown pass late in the third quarter.
The Jets tied at 10-10 early in the third when Fitzpatrick connected with Marshall for a 21-yard touchdown. New York got a boost on that drive from a 44-yard pass interference penalty on Quintin Demps.
Hopkins put the Texans on top when he got in front of Revis and grabbed a 61-yard touchdown reception to make it 10-3 with about three minutes left in the first half. The play came two plays after another big catch by Hopkins, where he again beat Revis and snagged the ball one-handed for an 18-yard gain.
Williams sacked Yates, who fumbled the ball in the second quarter. Williams pounced on it to give New York the ball near midfield. Randy Bullock, who was cut by the Texans earlier this season, made a 40-yard field goal to tie it at 3 with about nine minutes left in the second.
NOTES: Jets C Nick Mangold left in the first quarter with a hand injury and Bowles said he had lacerations in his hand that kept him from snapping the ball. ... Houston CB A.J. Bouye didn't return after leaving in the second quarter to be evaluated for a concussion.
___
AP NFL website: www.pro32.ap.org and http://twitter.com/AP_NFL