Randy Moss works with Texans receivers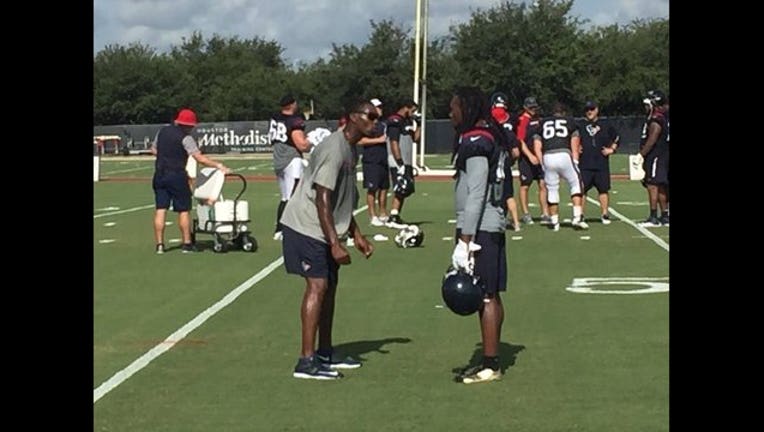 article
Houston - As one of the greatest receivers in NFL history, Randy Moss has garners instant credibility as a tutor. On Tuesday, the six-time Pro Bowler worked with the Texans receivers. The same Texans receivers who grew up watching him dominate throughout his NFL career.
"He's the GOAT (greatest of all time) man," said Wendall Williams. "It's humbling. When I heard he was coming in, I was speechless at first."
"He's one of the greatest to play the game and it's just an honor to have him out here with us," said second-year receiver Jaelen Strong.
"It's awesome," said Josh Lenz. "I remember watching him when he was with the Vikings. That's the guy you wanted to be like when you grew up so it's sweet having him here."
"I'm kind of star struck right now, still," said backup quarterback Tom Savage. "I grabbed a ball and he wanted to catch (it) and I was like, Really? I threw him one ball and I was... Oh God I'm not gonna try and break his finger."
Moss didn't speak to the media after the game, but was actively involved with the team throughout the day. Receivers said Moss talked to the receivers about route running and technique. 
Training camp can become painfully redundant, particularly in the grueling heat. Moss's presence was a welcome change.
It's exciting, man. He's one of the greats," said receiver Keith Mumphery. "The fire has always been lit but it gave me some extra juice."
Perhaps that extra juice can be put to good use on Sunday for the team's pre-season opener.