Hoyer benched in Texans' 27-20 loss to Chiefs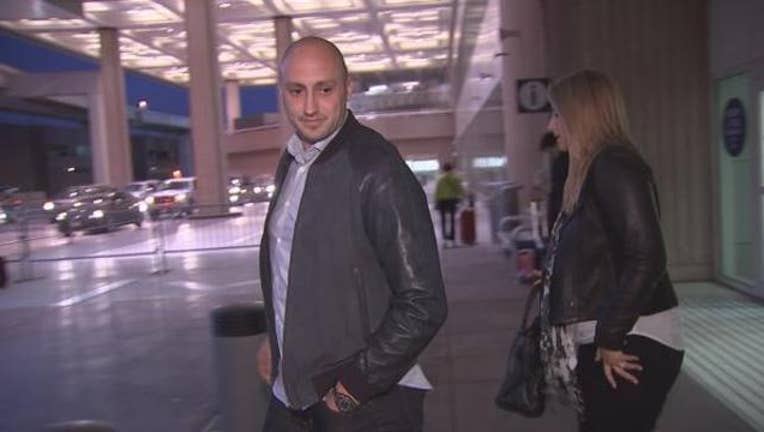 HOUSTON (AP) — The Houston Texans have a quarterback controversy just one week into the season.
Two early turnovers by Brian Hoyer doomed the Texans in a 27-20 loss to the Kansas City Chiefs on Sunday that ended with Hoyer benched in favor of Ryan Mallett.
Alex Smith threw for 243 yards and three touchdowns in the first half as the Chiefs built a big lead.
Travis Kelce caught two touchdown passes in the first quarter, the first one coming after Kansas City intercepted Hoyer's first pass as a Texan.
The Chiefs were up by 14 in the second quarter when Justin Houston sacked Hoyer, forcing a fumble. Kansas City recovered it and a 7-yard touchdown reception by Jamaal Charles pushed the lead to 27-6.
Hoyer, who beat out Mallett for the job in camp, struggled in his debut before Mallett took over with about six minutes left and led Houston on two scoring drives to cut the lead to a touchdown.
"I feel terrible," Hoyer said. "I feel like I let this entire organization down. I mean, it just went from bad to worse."
Coach Bill O'Brien was asked if Hoyer would start next week.
"I don't know," he said. "We'll review the film, and we will find out once we get into next week."
J.J. Watt had two sacks, nine tackles and tied a career high with six tackles for losses. Jadeveon Clowney, last year's top overall pick, had four tackles, with one for a loss, in limited action in his first game since microfracture surgery in December.
Watt was disappointed that the defense was unable to stop Kansas City from scoring after the turnovers.
"In situations where we get put in a short field or something like that, it's our job to stand up and make a play," Watt said. "And we didn't do that today."
DeAndre Hopkins had nine receptions for 98 yards and two touchdowns in Houston's first game without star receiver Andre Johnson, who was released in the offseason.
Hoyer elicited boos throughout the afternoon, and the home crowd began chanting "Mallett! Mallett!" after Hoyer was called for intentional grounding in the fourth quarter. He was 18 of 34 for 236 yards. Mallett was eight of 13 for 98 yards.
"The whole offensive effort wasn't very good," O'Brien said. "At the end there, we started moving the ball a little bit, but it was way too late."
Hoyer's pass was intercepted by rookie Marcus Peters on Houston's first drive, giving the Chiefs the ball at the Houston 13. Smith connected with Kelce two plays later on a 10-yard touchdown pass to put Kansas City up 7-0.
Kelce pushed the lead to 14-0 when Smith found him wide open on a 42-yard touchdown pass.
Hopkins reached over a defender to grab a 4-yard touchdown pass late in the first quarter. But Randy Bullock missed the first extra point of his career and the first since the NFL moved extra point attempts from the 2-yard line to the 15, to leave Houston down 14-6. He had made all 66 of his previous attempts.
Watt's first sack came in the second quarter when Jah Reid knocked his helmet off trying to slow him down. Watt got to Smith anyway, taking him down for a 9-yard loss without his helmet. Kansas City's second field goal of that quarter came two plays later to extend the lead to 20-6.
Houston's strip sack of Hoyer came on the Texans' next possession and the Chiefs recovered it at the Houston 7. The Chiefs cashed in on the mistake one play later on the touchdown by Charles.
Another sack by Watt, last year's Defensive Player of the Year, came with an assist by Clowney in the third quarter. Clowney got into the backfield, flushing Smith from the pocket and Watt dragged him down as he tried to evade Clowney.
"It's been a long, long comeback, so it felt good to get back," Clowney said.
Hopkins grabbed an 8-yard touchdown pass from Mallett in the fourth quarter and also caught a pass for the 2-point conversion. A 47-yard field goal by Bullock with less than two minutes remaining got Houston within 27-20.
NOTES: Kansas City safety Eric Berry had two tackles in his first regular-season game since revealing he had lymphoma last November. Berry was declared cancer-free in June and cleared to practice just before camp. ... WR Jeremy Maclin had 52 yards receiving in his debut for the Chiefs after spending the first five years of his career with the Eagles.
___
AP NFL website: www.pro32.ap.org and http://twitter.com/AP_NFL