Houston Texans defeat Tennessee Titans 24-21, take AFC South lead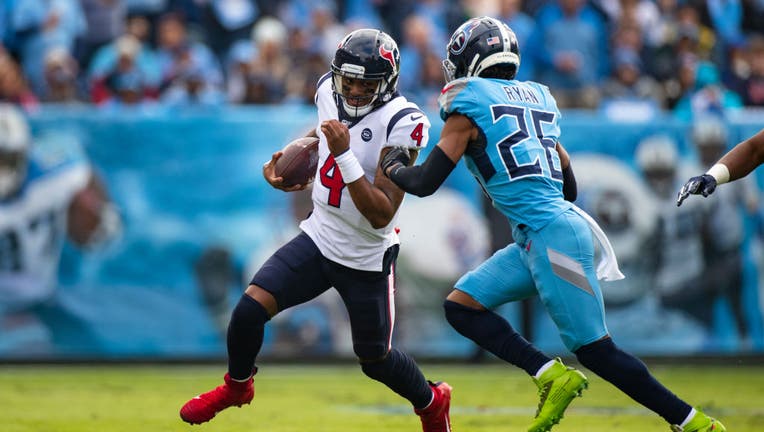 NASHVILLE, Tenn. (AP) - The Houston Texans grabbed control of the AFC South by beating the Tennessee Titans 24-21 Sunday.
The defending division champs are looking for Houston's fourth AFC South title in six years under coach Bill O'Brien. The Titans haven't won this division since 2008, and Mike Vrabel is Tennessee's third coach since then.
Ka'imi Fairbairn kicked a 29-yard field goal with 3:26 left for the winning points.
The Texans (9-5) nearly blew a 14-0 halftime lead. Deshaun Watson threw for 243 yards and two touchdowns, but Tennessee also intercepted him twice inside the Titans 1.
The Titans (8-6) snapped a four-game win streak with only their second loss in seven games. Now they will need help in the final two games to earn their second playoff berth in three seasons.
When the Titans tied it at 14 early in the fourth quarter, the Texans scored 10 straight points. Carlos Hyde ran for a 10-yard TD, then Fairbairn's field goal finished Houston's scoring.
Ryan Tannehill hit Dion Lewis with an 11-yard TD pass with 2:04 left to pull Tennessee within 24-21. But the Titans used backup kicker Ryan Santoso on the onside kick, and the ball only went 7 yards before being smothered by Texans safety Justin Reid.
___
More AP NFL: https://apnews.com/NFL and https://twitter.com/AP_NFL