Hometown excitement setting in as fight looms for Houston's Charlo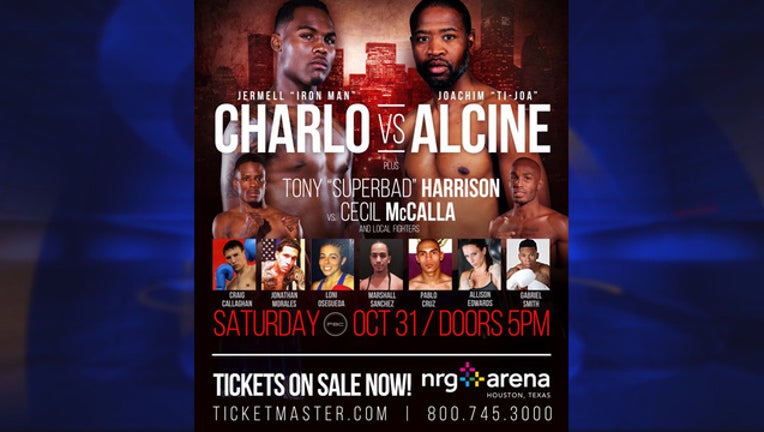 HOUSTON (FOX 26) - With his weigh-in done and over with, it started to dawn on Jermell Charlo all the love he's getting for his fight coming in his hometown tomorrow.
Charlo, who has a perfect 26-0 record thus far, will be fighting Joachim Alcine in what should propel him for a WBC title shot, a belt Floyd Mayweather currently owns.
The weigh-in for the fight took place at Social Junkie on Friday afternoon. Houston icons like rapper Bun B and former NFL star defensive tackle Shaun Rogers showed up to support Charlo as he continues on his championship quest.
"I just can't explain the excitement that I have," Charlo said. "I mean, I'm having Shaun Rogers, NFL players. Bun B came to support it. Paul Wall... we're all going to eat right now. It's beautiful and I'm excited for what's going to take place tomorrow.
"There's a buzz. It's exquisite right now."
This buzz is unique considering this fight and the events surrounding it are all in Charlo's hometown. Charlo graduated from Hastings High School. His twin brother Jermall already owns the IBF super welterweight belt. There's nothing Jermell wants more than to join him as a champion of the world together.
"I want it bad," Charlo said. "I don't even think anyone understands how bad I want it. I want to take (Alcine) out right now. That's how bad I want it. It means more to me than anything."
As a former NFL star, Shaun Rogers knows what it takes to make it to the next level, how to become elite. He senses something different about the hunger level of the Charlos.
"You can just see it every day," Rogers said. "They compete against each other every day. They compete against everyone. They're hungry and I just think, in this environment and in this area, it's good to see.
"I want it for (Jermell) badly, man," he continued. "He's undefeated, man. He's going to get a chance to prove himself on the national scale and, as an athlete, I know how hard it is and I know how much work you put in, so just as a follower and as a fan of him, I want him to win bad."