Harden appreciates everything Krzyzewski taught him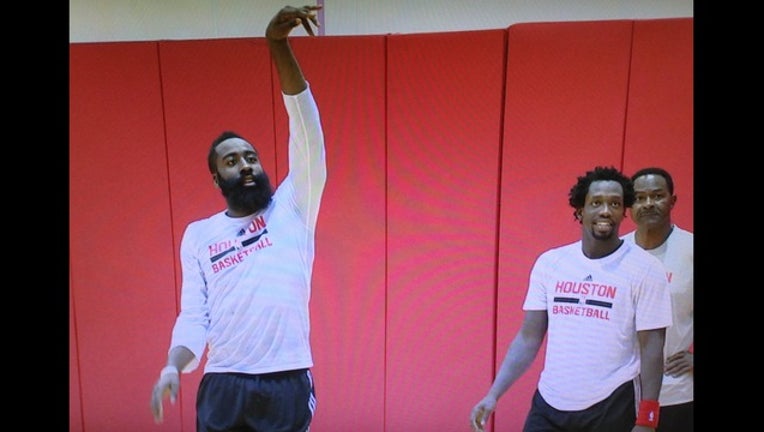 HOUSTON (FOX 26) - In the wake of reports that Mike Krzyzewski is preparing for his final Olympics as USA Basketball's head coach, James Harden voiced his appreciation for what the Duke head coach has done for his career.
Krzyzewski told ESPN's Andy Katz the 2016 Rio Olympics will be his final Olympiad as Team USA head coach. He is currently 75-1 as the head coach for the national program, winning gold medals in 2008 and 2012.
Harden was a part of that 2012 team and is part of the U.S. Men's National Team from 2014 through 2016. The Rockets All-Star guard has seen his national role gradually increase. In the season following his 2014 participation with the 2014 National Team, Harden saw his NBA production increase from a 25.4-point clip to another level at 27.4 points, when his complete game became more recognized as being MVP worthy. Harden not only saw his points increase, but also saw his rebounding and assist numbers increase as well.
On Monday, upon hearing of the news, Harden responded.
"He's done so much for his legacy, Duke basketball, USA Basketball," Harden said. "He and Jerry Colangelo kind of revamped that entire USA Basketball program. They built it up the right way.
"He put so much time and effort into it."
Harden sounded off on how Krzyzewski impacted his game.
"Just everything as far as leadership, having to work," Harden said. "One thing I can remember is you have a lot of NBA talent, a lot of high-profile athletes in one room, on one team. Basically, most other coaches are like, 'Leave your egos outside.' He's like, 'Bring your egos. That's what makes you who you are.'
"By him saying that, you've got 12 All-Stars or superstars, whatever you want to call it. Meshing together is something special. And not a lot of coaches can make it happen."