Astros trade 4 players to Brewers for OF Gomez, pitcher Fiers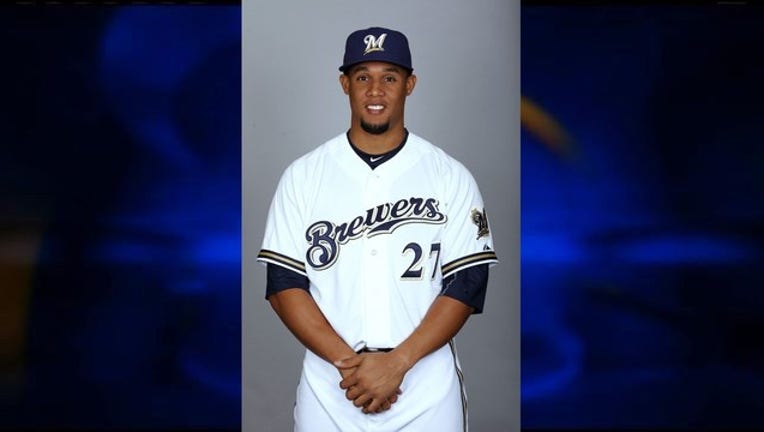 The Houston Astros have acquired outfielder Carlos Gomez, right-handed pitcher Mike Fiers and slot number 76 in the 2015-16 international pool from the Milwaukee Brewers in exchange for four minor league players, Astros general manager Jeff Luhnow announced.
Left-handed pitcher Josh Hader, right-handed pitcher Adrian Houser and outfielders Brett Phillips and Domingo Santana are the minor league players dealt by the Astros in the trade on Thursday.
Gomez, 29, was hitting .262 (in 286 at bats) with 20 doubles, eight home runs and 43 RBI in 74 games for the Brewers this season.
Signed through the 2016 season, Gomez is a nine-year MLB veteran, having spent time with the New York Mets, Minnesota Twins and Brewers. He had the best season of his career in 2014 with a .284 average (in 574 at bats) with 34 doubles, 23 home runs, 73 RBI, 34 stolen bases and an .833 OPS.
Gomez is one of two players, along with Angels outfielder Mike Trout, with at least 100 stolen bases and 50 home runs over the last four seasons.
Fiers, 29, has started 21 games for the Brewers during the 2015 season with 5-9 record and 3.89 ERA (51ER/118IP). He has collected 121 strikeouts in 118.0 innings pitched and has posted over a strikeout per inning in his MLB career, collecting 349 strikeouts in 341.2 innings. Fiers is not yet arbitration eligible, having entered this season with 1 year and 85 days of Major League service time.
Santana was playing for AAA Fresno and was on the club's 40-man roster, while Hader, Houser and Phillips were all playing for AA Corpus Christi.
With the additions of Gomez and Fiers, the Astros 40-man roster is now full.