Astros struggle on offense in 2-1 loss to Rangers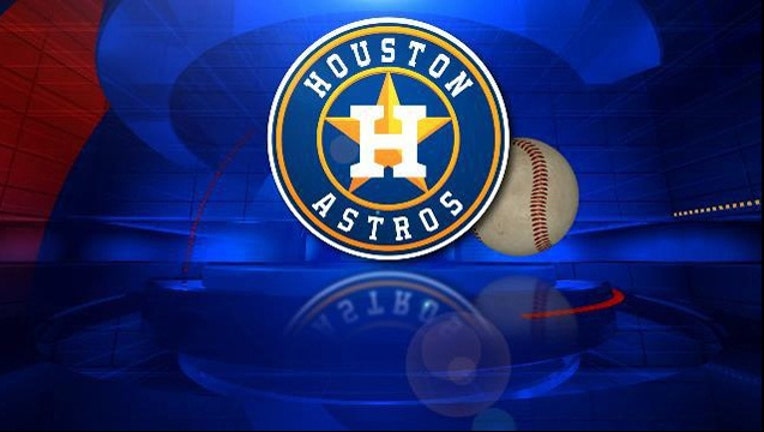 HOUSTON (AP) - A.J. Hinch isn't ready to rework his lineup despite his team's recent offensive struggles.
The Houston Astros managed just one run for the third straight day in a 2-1 loss to the Texas Rangers on Saturday night.
"We swung the bats well in Boston; we swung the bats well in Chicago except against (Chris) Sale, and so I don't want the recent memory of a couple 2-1 losses at home to create too much of a lineup construction change," the Astros manager said.
Elvis Andrus hit his first home run of the season and Cesar Ramos pitched six solid innings to lead the Rangers to the victory.
The homer by Andrus, which landed in the left-field seats, came with two outs and a full count to put Texas up 1-0 in the second inning. Rougned Odor made it 2-0 with an RBI single in the third.
Ramos (1-2) yielded two hits and one run while fanning four in six innings for his first win this year in his third start and fifth appearance. Sam Dyson pitched a perfect ninth for his fourth save and second in two games.
The top four batters in Houston's lineup went 1 for 14 with five strikeouts on Saturday night. Houston's leadoff hitter Jose Altuve went 0 for 4 to end a 12-game hitting streak.
"They are keeping us off the barrel a little bit, and the ones we are hitting aren't finding the holes," Houston outfielder Colby Rasmus said.
Marwin Gonzalez's solo homer in the third was Houston's only run.
Houston starter Mike Fiers (3-2) allowed six hits and two runs in seven innings in the loss, which snapped his three-game winning streak.
"You get a starting pitcher that goes out there and gives you that kind of outing, more times than not you are going to come out ahead and feel really good about it," Hinch said. "I still feel really good about what Fiers did, but unfortunately, it was in a loss."
Matt Bush took over in the seventh inning and struck out the first two batters before walking Evan Gattis. Colby Rasmus gave Houston its first hit since the fourth inning with a single after that, but Bush retired Tyler White to end the threat.
Bryan Holaday doubled with one out in the third inning and scored on a single by Odor to make it 2-0. Odor tripped coming out of the batter's box before regaining his footing, but was thrown out trying to stretch his hit into a double.
Gonzalez cut the deficit to 2-1 when he sent one over the wall in left-center with no outs in the third inning for Houston's first hit.
George Springer singled to start the fourth inning to extend his hitting streak to 10 games, but Ramos didn't allow another hit before he was replaced for the seventh inning.
NIFTY CATCHES
Houston center fielder Jake Marisnick made two potentially run-saving catches in the fourth inning with runners on first and second. The first one came when he sprinted to the track in right-center field and stretched out to make an over-the-shoulder catch on a ball hit by Andrus. He did it again minutes later when he dashed into shallow center field and lunged forward to snag a ball hit by Nomar Mazara to end the inning.
Marisnick got plenty of high-fives when he reached the dugout, and bench coach Trey Hillman patted his shoulder and simply said: "Wow."
TRAINER'S ROOM
Astros: OF Carlos Gomez (bruised left ribcage) worked out at Minute Maid Park on Saturday and is expected to begin a rehabilitation assignment with Double-A Corpus Christi on Tuesday. Manager A.J. Hinch said he'll play a few games there, getting some work in center field and as the designated hitter.
UP NEXT
Rangers: Cole Hamels (4-0, 3.10) looks to extend his career-best winning streak to 12 games when he starts on Sunday. Hamels did not factor in the decision in his last outing after allowing nine hits and four runs in 6 2/3 innings of an 8-5 loss to Oakland on Tuesday.
Astros: Dallas Keuchel (2-5, 5.43) will make his 10th start of the year on Sunday. Last year's American League Cy Young winner will try to snap a four-game skid and pick up his first win since April 15.