Astros fall to Rangers in Arlington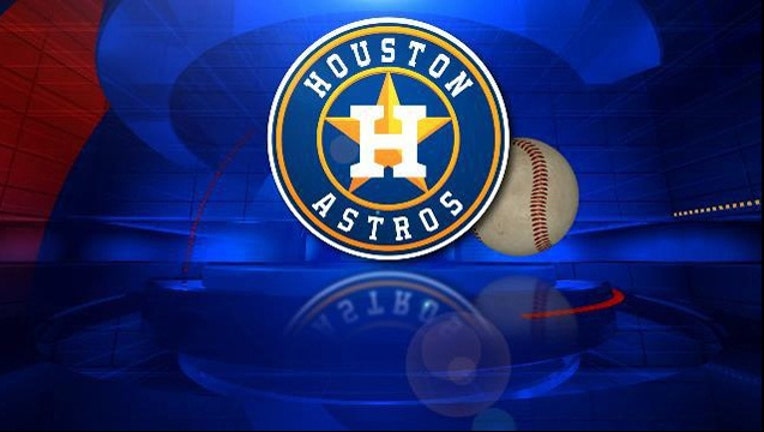 UPDATE: The Houston Astros fall to the Texas Rangers 3-14 at Globe Life Park in Arlington, TX Wednesday night.
ARLINGTON, Texas (AP) — For the first time since late July, the Houston Astros aren't in first place in the AL West.
And they have another close loss to blame.
Mitch Moreland hit a winning sacrifice fly in the bottom of the ninth after Adrian Beltre's fourth hit set him up, and the Rangers took another tense Texas showdown with a 6-5 victory Tuesday night.
The Astros, who overcame a 4-0 deficit and briefly led, lost for the sixth time in eight games on their road trip, and four have been by one run. In Monday's opener of this four-game series with the division lead on the line, Prince Fielder had a tiebreaking two-run homer in the eighth of a 5-3 Texas win.
"One-run losses and two-run losses are tough, especially at this time of year," Houston manager A.J. Hinch said. "There's a lot of attention, there's a lot of want factor. Our guys are pushing. We're in it. We're having a hard time getting to the finish line on the right side of these."
Eight games back and in third place in the division after losing on Aug. 1, the Rangers have gone 27-14 since then. They've won five straight over the Astros, who had been in first place since July 28.
"They have fought, scratched, clawed all ways imaginable to get to this point," first-year Texas manager Jeff Banister said. "We're not done yet. Still got a long ways to go."
Fielder opened the ninth with a single to left off Oliver Perez (0-2), and pinch-runner Drew Stubbs went to third on a single from Beltre, who drove in two runs with a single in the first and a tying double in the fourth.
Moreland sent a 1-0 pitch from Will Harris to Colby Rasmus in shallow center field, but Rasmus' throw was off target and bounced, allowing Stubbs to score easily.
"If I make the absolute perfect throw, I might have a chance at Stubbs," said Rasmus, who had moved over from left field in the eighth. "He can fly. I might have tried too hard to make the perfect throw instead of just throwing it."
Texas closer Shawn Tolleson (6-3) pitched a scoreless ninth as the Rangers (77-67) moved into sole possession of first place for the first time this year, at a season-high 10 games over .500.
Houston (77-68) holds the second AL wild card, 1 1-2 games ahead of Minnesota after the Twins lost to Detroit 5-4. Another had road swing has dropped the Astros to 29-44 away from home, among the worst records in the AL.
"This is really intense baseball," Hinch said. "It's fun to do it; it's not fun to lose. I felt we deserved a little better fate."
STARTERS FALTER
Astros starter Collin McHugh allowed the first five Texas hitters to reach in a four-run first inning after giving up just four runs over 19 innings in his first three career starts against the Rangers.
Texas left-hander Derek Holland couldn't hold that lead, immediately allowing the first four hitters to reach in the second before Jake Marisnick's sacrifice squeeze bunt scored Jonathan Villar to get the Astros to 4-3. Evan Gattis finished the rally in the fourth with a two-out, two-run single for a 5-4 lead.
LEFTY OVERLOAD
The Astros will face their fifth straight left-handed starter against Martin Perez on Wednesday night. It's the first time they've done that since June 27-July 2, 1991, when they faced Charlie Leibrandt of Atlanta; Tom Browning, Gino Minutelli and Chris Hammond of Cincinnati and Bud Black of San Francisco.
TRAINER'S ROOM
Astros: 3B Jed Lowrie was out of the lineup after getting banged up on consecutive pitches in Monday's series opener. He fouled a ball off his left shin, and then got hit by a pitch on his left foot. He ended up leaving the game. Manager A.J. Hinch said he wasn't sure if Lowrie would be available off the bench. ... CF Carlos Gomez (left rib muscle) rejoined the team Tuesday after being scratched from the lineup Sunday at the Los Angeles Angels and getting evaluated Monday in Houston. Hinch said he was day to day.
Rangers: C Robinson Chirinos (strained left shoulder) caught in the cages for the first time since re-injuring the shoulder last Wednesday at Seattle.
UP NEXT
Astros: LHP Dallas Keuchel (17-7, 2.22 ERA) has allowed three runs in 22 innings over three starts against the Rangers this season. He has just one win, though — 10-0 on July 19.
Rangers: LHP Martin Perez (2-5, 5.43) got an extra day of rest when the Rangers moved Holland in front of him in the rotation, which also helped Texas line up the pitching staff for the postseason.