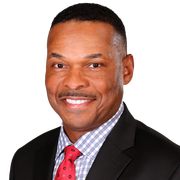 Nate Griffin, a familiar name in Houston sports, currently serves as general assignments reporter and sports analyst for KRIV-TV, assigned to FOX 26 Morning News. Before landing his current position, Nate covered professional, college and high school sports in Houston and the surrounding areas for more than 25 years in radio, television and on digital platforms. His career began in Houston radio in 1989 as producer, weekday reporter, and anchor at KTRH 740AM. Nate wore many other hats during that time such as college basketball public address announcer and radio & TV color analyst for high school and college football and basketball broadcasts. That experience eventually led to a weekday reporter/weekend anchor position at KBMT-TV, ABC, in Beaumont, Texas. Along with his other responsibilities as college football and basketball color analyst with regional and national TV networks, he worked as a web reporter for the Houston Texans. The former Southern Mississippi wide receiver is currently in his 12th season as the color analyst for Rice Owls radio football broadcasts. Nate is married and has one daughter.
The latest from Nate Griffin
Beaumont, Texas is a tough place to play, yet, Evans and his North Shore team traveled to the Golden Triangle to face an undefeated West Brook team. They came out on top.
She's one of the top high school pitchers in the nation, and her GPA is hitting it out of the park. Alvin High School senior Jodie Aguirre is Making the Grade.
As a freshman, Adaora Nwokeji walked in the door wooing everyone. She was the only freshman on varsity last season. Now, she's a leader and one of the top girls' high school basketball players in the state. She also runs track.