Website to help Houston-area essential workers find child care
HOUSTON - A new effort here in the Houston area is making securing child care easier for moms and dads who are continuing to work during this health crisis. Houston Mayor Sylvester Turner says the unique program was created to find, and in some cases pay, for childcare for essential workers after surveying parents with kids 12 and younger and they overwhelmingly were asking for help.
Collaborative for Children and Workforce Solutions, in partnership with the City of Houston, Harris County and other community partners are helping to provide the needed support during the COVID-19 crisis.
"I recognize the challenges you and your family face in these most difficult times," says Mayor Turner.
During this COVID19 crisis where nearly everything is shut down including schools, essential workers are having a tough time finding someone to care for their kids.
"We can't afford to have a single medical worker or grocery store clerk or essential employee benched because they have to be home taking care of their child because they don't have access to child care," adds Harris County Judge Lina Hidalgo.
So area leaders are directing essential workers to www.findchildcarenow.org for recommendations and financial assistance.
RELATED: What are the essential jobs that operate during a stay-at-home order?
"Folks will be paired with a childcare provider. These providers are screened to ensure they are following CDC guidelines for how to be as safe as possible while taking care of our kids," Hidalgo explains.
This is a 13-county, several-agency effort. Workforce Solutions has pledged $10-million and the website is run by Collaborative For Children.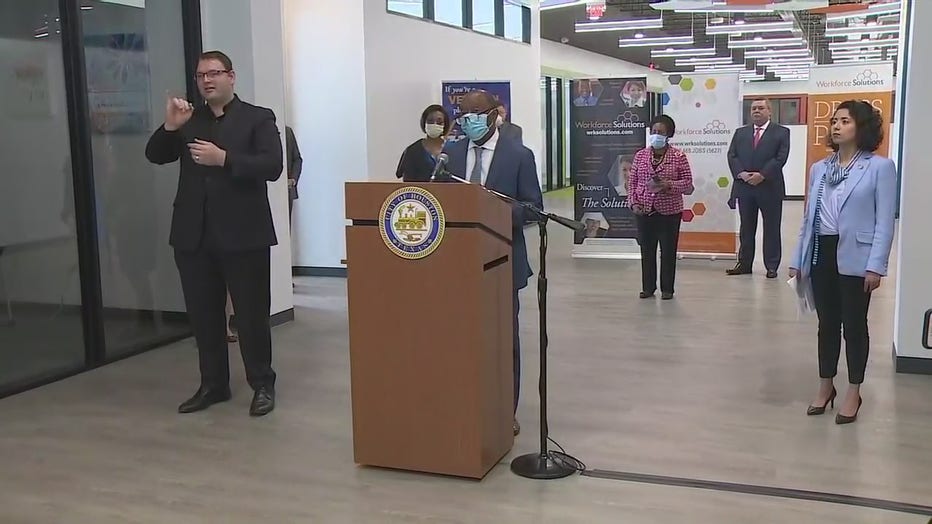 Houston and Harris County officials announce the launch of a website to help essential workers find child care.
Counties that are covered for assistance include Austin, Brazoria, Chambers, Colorado, Fort Bend, Galveston, Harris, Liberty, Matagorda, Montgomery, Walker, Waller, and Wharton.
"Parents are able to use this website not only to refer to quality accredited and licensed childcare but also to be able to receive funding," explains Dr. Melanie Johnson with Collaborative For Children.
"If a family wishes to apply for financial support they will be contacted by someone with Workforce Solutions within four business days," adds Mayor Turner.
As you choose childcare, Children At Risk advises researching the facility's Texas Rising Star rating.
"You want to go with those that have a history of being consistent, that have a history of being there that have a history of being good childcare providers," says CEO & President of Children At Risk Dr. Bob Sanborn.
This effort is expected to provide care for 3,500 kids of essential workers who are 12 and under. If you already have childcare and need financial assistance, just go to the website and help is available for you as well.
The website has three assistance options for essential workers who need childcare now, need child care now and financial assistance, or already have childcare and need financial assistance.