Uvalde survivor 'slowly healing' 1-year after mass shooting at Robb Elementary School in Uvalde
UVALDE, TX - On Wednesday, ceremonies and prayer services were taking place across Uvalde, Texas to honor the 21 people shot and killed exactly a year ago at Robb Elementary School.
"It's unbearable," said Javier Cazares, Jacklyn Cazares' father. "A nightmare I can't wake up from."
'Uvalde Strong' is now written on the side of buildings, windows, and t-shirts across the small Texas town. On May 24, 2022, a gunman walked into Robb Elementary School shooting and killing 19 children and two teachers.
UVALDE: 1 year after Uvalde, Texas shooting, investigation of police response continues
"I don't feel like it's been a year," said Arnie Reyes, a teacher and survivor of the shooting. "We've got to represent and make sure everyone remembers."
Reyes was a 4th-grade teacher at Robb Elementary School. He was shot in the arm and back. All 11 of his students were killed.
"Personally, I'm doing as anybody who has lost a loved one would be," said Reyes. "I'm healing slowly but surely."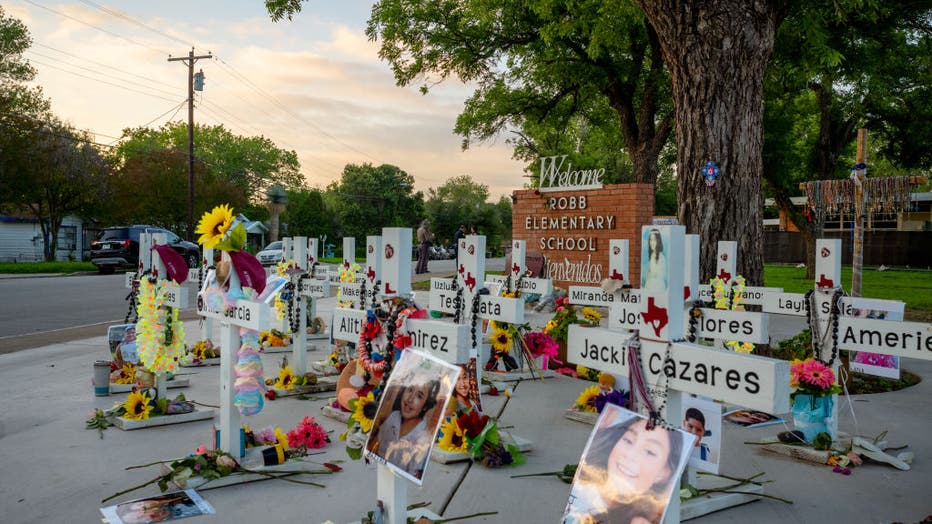 UVALDE, TEXAS - MAY 24: A memorial dedicated to the 19 children and two adults murdered on May 24, 2022 during the mass shooting at Robb Elementary School is seen on May 24, 2023 in Uvalde, Texas. Today marks the 1-year anniversary of the mass shooti
Twenty-one butterflies were released outside a church in Uvalde on Wednesday to honor the victims. After 77 minutes, church bells rang to symbolize the amount of time it took the authorities to confront the shooter.
MASS SHOOTING: What have Texas lawmakers done since the Uvalde elementary school mass shooting?
"We want answers, we want transparency, [and we want] accountability," said Ronald Garza, Uvalde County Commissioner Pct. 4. "In the end we want justice."
DOWNLOAD THE FOX 26 HOUSTON APP HERE
An investigation continues into the poor response by law enforcement. The Uvalde district attorney has said evidence will be given to a grand jury to determine possible charges.
"I'd like to see [the police] held accountable for their inaction," said Michael Brown. "Responsible for what they did not do and what they swore an oath to protect.  We're talking about children."
A candlelight vigil service is scheduled for Wednesday evening.