U.S. flag found in 'almost perfect condition' along California street devastated by Camp Fire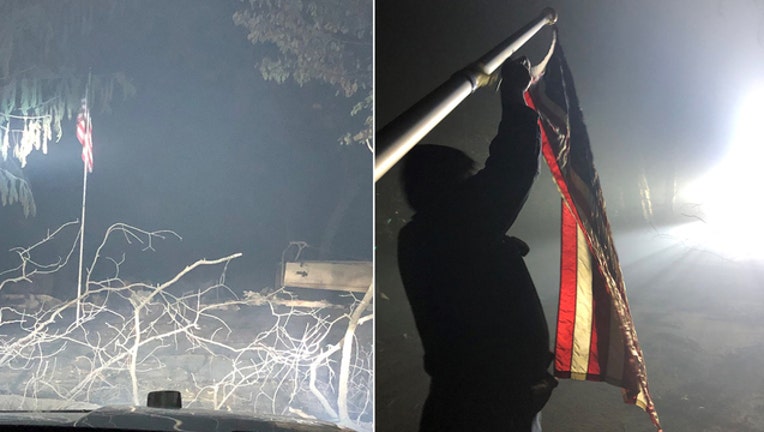 article
PARADISE, Calif. (FOX 13/AP) - As California officers surveyed damage in a neighborhood devastated by the Camp Fire, they came across a flag pole that was still standing, along with a U.S. flag that was mostly unscathed.
Officers with the Elk Grove Police Department found the flag as they were driving down a street where each home was destroyed. That's when they found the pole and American flag in "almost perfect condition."
"Our officers were driving down one street where every house had been leveled, nothing left, except a flag pole that was standing with flag in almost perfect condition. Our officers documented the address and secured the flag in hopes to return it to the owners one day," the agency wrote on its Twitter page.
The police department shared images showing the flag pole surrounded by a scorched area. The Camp Fire is one of three wildfires burning in the state. 
The Woolsey Fire and Hill Fire are burning northwest of Los Angeles. Authorities have lifted mandatory evacuation orders for the Los Angeles neighborhood threatened. But thousands of homes remain at risk.
Fire officials announced Monday night that the evacuation order for a portion of West Hills in the northwestern San Fernando Valley has been lifted.
Several areas of Ventura and Los Angeles counties also had evacuation orders lifted Monday. However, large areas of those counties and the entire city of Malibu remain under mandatory evacuation orders.
The Woolsey fire that began last week has killed two people and burned at least 435 buildings, most of them homes. State fire officials say about 57,000 structures remain at risk.
At least 44 people have been killed -- 42 of which occurred in the Camp Fire alone, making it the deadliest wildlife in the state's history.