Too Good To Go app comes to Houston offering restaurant, store food for one-third the price
HOUSTON - An app is launching in Houston that can help you save money on food and help save the environment.
The people behind the Too Good To Go app say more than 80 Houston area restaurants, bakeries, pizzerias, and local food stores, such as Henderson & Kane General Store, have already signed on.  
Customers who log onto the free app can purchase a surprise bag of food for one-third of the price.
"We make fresh food every day. So part of that experience is at the end of the night we do have food that goes to waste," explained Veronica Avila, owner of Henderson & Kane.
HEALTHY EATING: Houston ranked in top 10 cities to eat healthily, more than 80 healthy restaurants
"They can buy it for one-third the price and they're getting tremendous value. Customers don't know what food they're going to get, but they know they're getting a great deal," said Chris MacAulay, Managing Director for Too Good To Go.  
Surprise bags are not delivered. The restaurant or store sets a time window when customers can pick them up.
"You could get our mac and cheese, one of the most popular things here," said Avila. "You could also get our creamed corn, our green beans, our ribs, sausage, quite a number of items that go out at night."
MacAulay says for the average price of $5 per surprise bag, customers get about $15 worth of food.
FOOD: Free donut from Voodoo Doughnut during Friday Houston Astros home games
"We know there is a growing population that is food insecure. One of the biggest problems that we're trying to address is the opportunity to reallocate food," said MacAulay.
And they hope to reduce the 40% of food in the U.S. that ends up in landfills.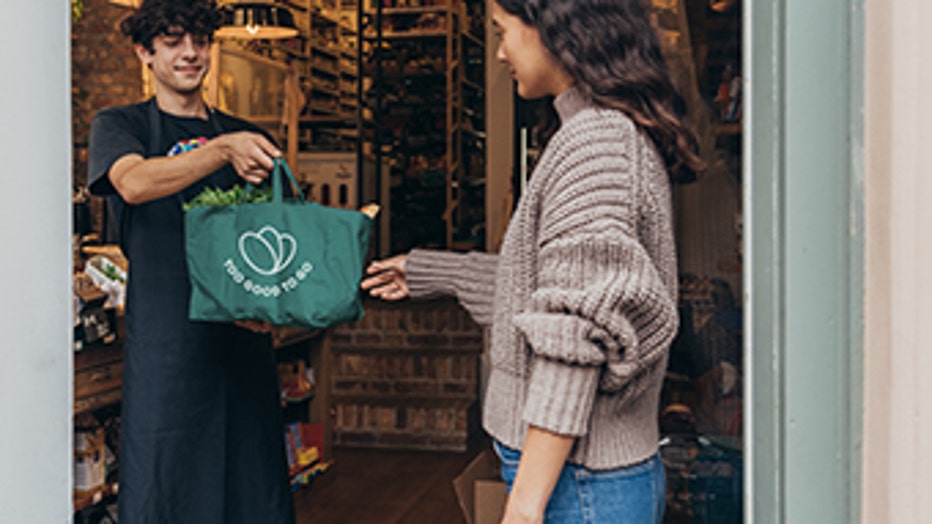 Shop owner handing a surprise bag to a Too Good To Go user (Photo courtesy of Too Good To Go)
"As it decomposes, it's contributing massively to greenhouse gases and the environment," said MacAulay.
Avila says it helps businesses bring in more revenue and customers.
CLICK HERE TO DOWNLOAD THE FOX 26 HOUSTON APP
"We know it's going to cover our food cost on some of those fluctuating items in the store," she said.
Other Houston restaurants on the app include Snap Kitchen, Michael's Cookie Jar, and Honest Eats.
Here are some other apps that also focus on reducing food waste:
Imperfect Foods
Misfit Markets
Martie
Hungry Harvest
Food Rescue Us
Flashfood