Texas manhunt ends in Conroe: Shooting suspect Francisco Oropeza charged with 5 counts of first-degree murder
CLEVELAND, Texas - 38-year-old Francisco Oropeza, the man accused of killing five of his neighbors in Texas, is charged with five counts of first-degree murder, San Jacinto County Criminal District Attorney Todd Dillon said on Wednesday afternoon.
MORE: Francisco Oropesa found hiding in closet, was underneath some laundry
Oropeza is being held in the San Jacinto County Jail, and his initial bond on Tuesday night was set at $5 million for one count of first-degree felony murder, Dillon said. 
However, at around 11:30 a.m. Wednesday, Judge Randy Ellisor accepted the charge of five counts of first-degree murder at $1.5 million bond for each charge, a total bond of $7.5 million. 
He was taken into custody at a home in Conroe, a city in Montgomery County, on Tuesday evening after a four-day manhunt.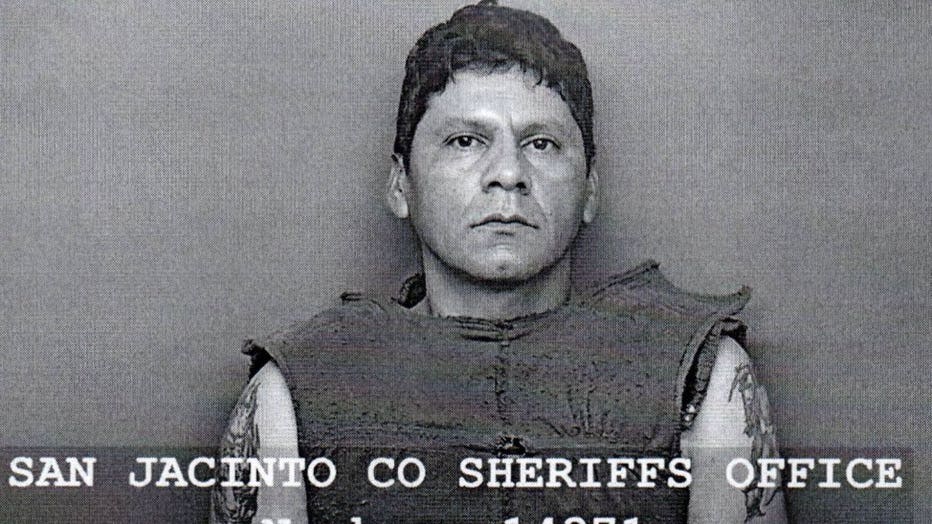 Francisco Oropeza (Photo: San Jacinto County Sheriff's Office)
Residents in the Conroe neighborhood where Oropeza was arrested say they're shaken up and grateful he was caught.
Neighbors told FOX 26's Damali Keith they were arriving home from work when suddenly their street was saturated with law enforcement, wearing full tactical gear, and before they knew it officers were surrounding a home on their street marching out and arresting a fugitive who was wanted for murdering an entire family.
PREVIOUS: 5 killed, including child in San Jacinto County
"It was scary. It felt kind of like being in a movie. You see that happening in a movie," says neighbor Angel Lozano, but what happened here was all too real.
U.S. Marshals, State police, sheriff's deputies, FBI and Border Patrol agents, some with their guns drawn, swarmed Summer Hollow Drive in Conroe and arrested wanted fugitive, accused murderer, Francisco Oropeza early Tuesday evening who was said to be hiding underneath a pile of clothes in the house.
"I've felt uneasy since this happened, and he's been on the loose. I have wanted him caught. I just didn't even know it was going to be across the street from me. I was really, really scared," says resident Yasmin Lopez.
"What if he still has the gun, and he keeps shooting people? (Those were your thoughts?)  Yeah, I mean everybody was scared," Lozano adds.
Oropeza's common-law wife Divimara Nava was also arrested and appeared in court where the judge told her. "You are charged with hindering the apprehension of a fugitive and that is a third-degree felony, carries two to 10 years in prison."
PREVIOUS: Reward for gunman increased totaling $100K for capture
Nava appeared to wipe tears at one point as she stood in front of the judge. A prosecutor read from the arraignment allegations against Nava.
"She admitted to delivering a message from Oropeza in person to his cousins who live in Conroe. The message from Oropeza was him requesting assistance to get to Mexico and his cousins advised they would not help him."
MORE: Wife, man arrested following capture of man accused of killing 5 neighbors
Nava also told the judge she is not a United States citizen but a resident of Mexico. She is being held in jail on a $250,000 bond.
San Jacinto County authorities say Oropeza was drunk near Cleveland, Texas, on Friday night when his neighbors asked him to stop shooting in his yard because they had a baby who was trying to sleep. The sheriff's office said the neighbors, including a child, were found shot to death "execution style."
A multi-agency search was launched, Oropeza's picture was plastered on banners and digital billboards, and a reward was offered for information leading to his capture.
Dillon says another man was booked on a possession of marijuana charge Tuesday night but is believed to have helped Oropeza flee the neighborhood where the shooting took place.