Texas cop stops to play hopscotch with young girl while on break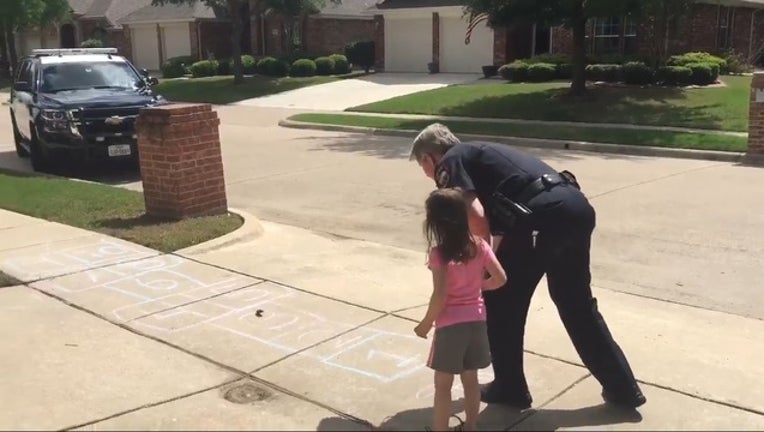 article
(WJBK) - A little girl in Texas didn't need any fancy technology to have fun. Instead, she was enjoying a classic game of hopscotch on the sidewalk when a police officer pulled up to join in on the fun.
Lyle Gensler is a former Marine and current cop with the Grand Prairie Police Department in Texas. He's also human (aren't we all) and uses his Twitter account to show his human side. It's very evident in a 20 second video that he posted on Wednesday.
Gensler was on a break when he spotted a little girl playing hopscotch in Grand Prairie, Texas. He says when he waved, she waved back so he stopped to teach her how to play the game.
Gensler told FOX 2 that he is a Detroit native. He's also a former Marine and was once a California cop before he landed in Grand Prairie, Texas. In his Twitter profile, Gensler says he shows 'the human side of [his] profession'.
In case you've never played or it's been so long that you've forgotten, here are the basic rules: lay out the court using squares or triangles. Then pick up a rock and toss it to the court, making sure it lands completely in the designated square without touching a line or bouncing out. Then you get to jumping. The goal is to hop onto the square, pick up your item, and then hop the rest of the squares without falling, skipping a square, or stepping on a line.
In the video, the little girl got all the way to the marker when she lost her balance. But she finished the squares anyways and then it was Gensler's turn. He showed her how it was done. Watch it here: