Spring ISD teachers forced to pay thousands of incentive dollars back due to overpayment
SPRING, Texas - Several teachers in Spring Independent School District told FOX 26 they received thousands of dollars through an incentive program, and they say the district wants to take a lot of it back. 
Emails dated Monday, March 20 indicate the district admitted to overpaying the money, and teachers would see deductions out of their checks starting Mar. 24 - some arrangements are to last as long as 19 pay periods, according to the email.
SUGGESTED: 'SICK': Houston man solicited child pornography from 18 minor boys
Teachers tell FOX 26 the incentive program was awarded to staff based on their student's test performance scores throughout the academic year. This is measured through MAP (Measures of Academic Progress) or STARR exams.
The Spring ISD website shows the details of a recruitment and retention incentive package for teachers approved by the Board of Trustees in April 2022. FOX 26 has not confirmed whether the Effectiveness Incentive Program teachers recently received the email about falls in that same category.
Several educators spoke with us anonymously in fear of retaliation for speaking to the press. One teacher, who has been with the district for a year, says she was paid $5,000 in October 2022. She now has to pay back $3,000.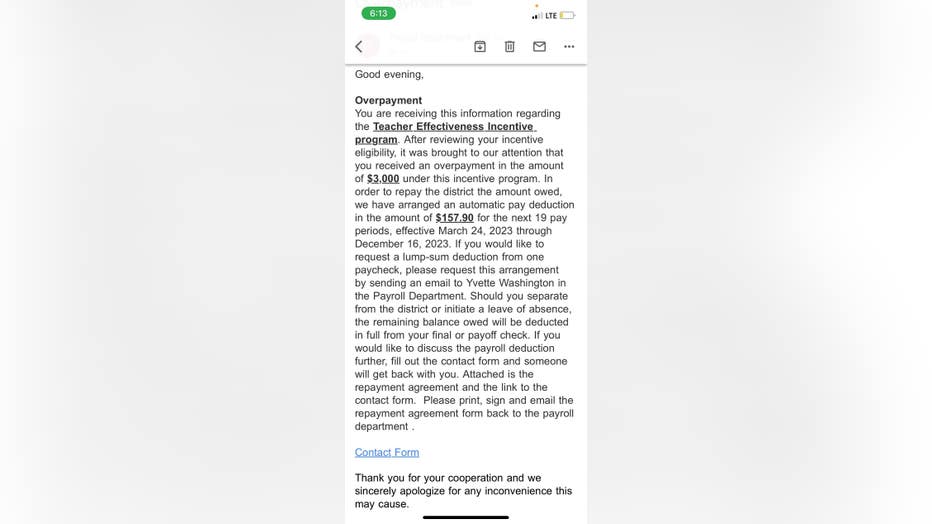 Email from Spring ISD to teacher about the overpayment of their incentive program
"Most of my fellow teachers live paycheck to paycheck, and they budget out for their month," she told FOX 26. "$157 is a phone bill. It's a light bill, it's daycare for people that have to send their children there. It's a bit of a bind." 
Another teacher was awarded $13,000 and was told they had to pay back $3,000. 
"I'm not greedy. That's fine. You can have the money back," she said. "It was just how it was handled. Being told that you have three days...and during all of this, I'm still in the classroom. I still have 40 students that I'm responsible for, and I can't just go on pause. I just found out that now I have to readjust my entire financial life." 
SUGGESTED: Killed during sex: Harris County woman strangled by boyfriend, officials say
Teachers also tell us an emergency meeting was held virtually with the district's finance department about the issue, but many teachers weren't aware of it. 
"Unfortunately it was not productive or respectful," says another teacher. "It was just a chance for them to gaslight us into making it the teacher's fault."
Spring ISD officially gave FOX 26 this statement on Friday:
As part of Spring ISD's ongoing internal process review, a complete audit was conducted of the Teacher Effectiveness Incentive Program. During this audit, there were underpayments and overpayments discovered due to a sorting error while processing. The individuals who were underpaid received pay on the March 10 paycheck. The individuals who were overpaid were notified on Monday, March 20. The overpayment is scheduled to be repaid over 19 paychecks through Dec. 24. Additionally, employees were provided an opportunity to contact payroll individually to make arrangements for extenuating circumstances.
In all accounting and payroll practices, including the disbursement of earned stipends, Spring ISD aims for 100% accuracy. However, human error can occur from time to time. As a responsible steward of taxpayer dollars, we must recoup any funds that are incorrectly distributed, as is the case in this instance. We are currently analyzing all of our processes to ensure this does not occur in the future.
The Spring American Federation of Teachers office released a statement to FOX 26 calling for the district to cancel the payments: 
"Spring AFT is actively working to address this issue with our board of trustees and administration. We are advocating that Spring ISD cancel these payments for all affected teachers. These payments were made more than five months ago, and many staff have already paid taxes on this money. An accounting error of this magnitude is inexcusable and correcting it should not fall on the back of already overworked and underpaid teaching staff. We understand mistakes. We don't accept mistreatment."