SC officials: 3 Florence-related deaths reported in state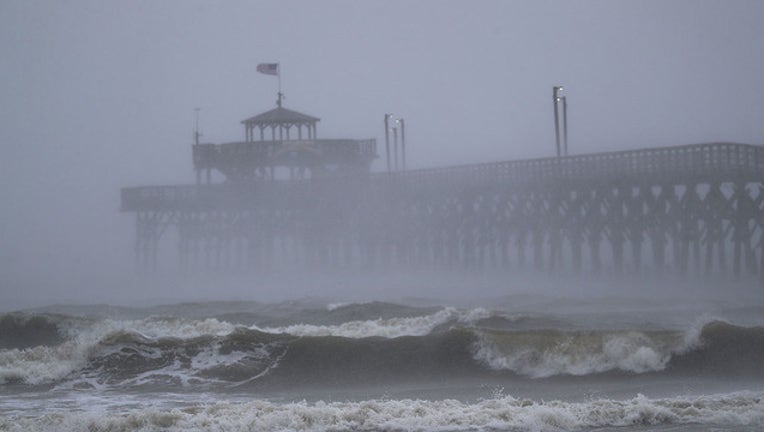 article
MYRTLE BEACH, S.C. (AP) - MYRTLE BEACH, S.C. (AP) — Officials in South Carolina are reporting that three people have died in connection with Hurricane Florence. There have been at least 10 deaths reported in North Carolina, bringing the storms toll to 13 total.
A 61-year-old woman was killed late Friday when the vehicle she was driving struck a tree that had fallen across Highway 18 near the town of Union.
RELATED: 13 dead, hundreds rescued as Florence pounds the Carolinas
Capt. Kelley Hughes of the South Carolina Highway Patrol said the woman, who was wearing a seat belt, died at the scene. No passengers were in the vehicle at the time of the crash.
The tree was about 6 feet above the road surface. Hughes said the vehicle's roof is what struck the tree.
The SC Department of Public Safety says two other people died in Horry County due to Carbon Monoxide poisoning. 
RELATED: : Follow latest updates on Florence's Track
South Carolina Gov. Henry McMaster is reopening the state's government next week, but state officials are warning that the danger of significant flooding will persist.
State Transportation Secretary Christy Hall told reporters on Saturday that her agency is closely monitoring four bridges in the state's northeastern section that are in danger of being washed over. Hall says those bridges are in areas that experienced significant flooding after 2016's Hurricane Matthew.
McMaster has lifted evacuation orders along much of South Carolina's coast. Horry and Georgetown counties in the state's northeastern portion are still under mandatory evacuation. McMaster says state offices that have been closed during the storm will re-open Monday.
Asked if he had spoken with President Donald Trump —a politically ally whom McMaster backed very early in the 2016 campaign— the governor says the president reassured him South Carolina would get federal assistance to dig out.
"He has said they would do whatever it takes to see that everything is available for South Carolina," McMaster said.
For more information on Hurricane Florence, head to the FOX 46 Resource Center.