Power companies ask Texans to use less energy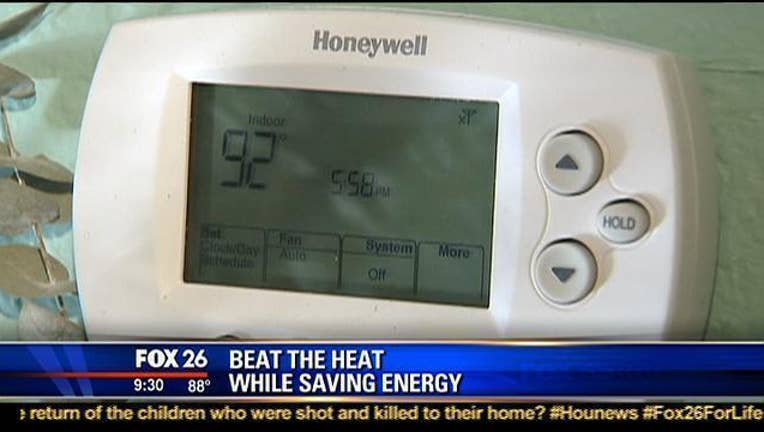 When the temperatures go up, so does the energy use.
It's been so hot in Houston lately that air conditioners have been working overtime. According to the Electric Reliability Council of Texas (ERCOT), which is the grid operator for most of Texas, energy usage these recent weeks has marked new all-time peaks in electricity use statewide. ERCOT had to announce a Conservation Alert because parts of the grid experienced outages.
For some, they try to go where the ac is free.
"We're just trying to stay cool during the week either going to indoor playgrounds or go off to the Galleria, do some ice-skating." Said Daan Kegel, a Houston resident.
But the stress isn't just on the power grid -- it's affecting our water mains too.
Crews were out fixing breaks. caused by the steamy, sweltering heat. FOX 26 News caught an active break on Wesleyan and the Southwest Freeway on Thursday.
The City of Houston Houston Public Works crew said when we hit extreme temperatures, the ground contracts and the soil shrinks, which puts pressure on the water main lines often causing it to rupture.
As of thursday, there were 150 water main breaks in Houston that needed repair.
What officials are asking for is your help.
"I encourage all Texans to implement responsible energy practices," Governor Abbott said in statement. "In order to mitigate stress on our state's electricity grid, Texans should take simple measures to save as much energy as possible."
The governor as well as electricity companies want people across Texas to conserve energy by doing things like going to cooling centers.
FOX 26 News spoke with people at The Looscan Neighborhood Library, a cooling center off of Wesleyan.
"It's been a great relief. Cooler in here and a little time to read and recreation, get away from the heat," said William Montalbo, a Houston resident.
"We usually spend some time in here. The kids like to run around and read some books and play here. It's definitely cold…so we don't have to cool the house," said Kegel.
You can also help lighten the burden on our power grid by:
Close blinds and drapes for windows that get direct sun.
Turn off all unnecessary lights and electronic equipment.
Try not to use the dishwasher, laundry equipment, or other appliances during the peak hours of 3 p.m. to 7 p.m.
Use microwaves for cooking instead of an electric range or oven.
Depending on who your energy provider is, you may also save money if you use less energy during peak hours.