#PopeInDC: 5 things you need to know about Pope Francis' Thursday visit to DC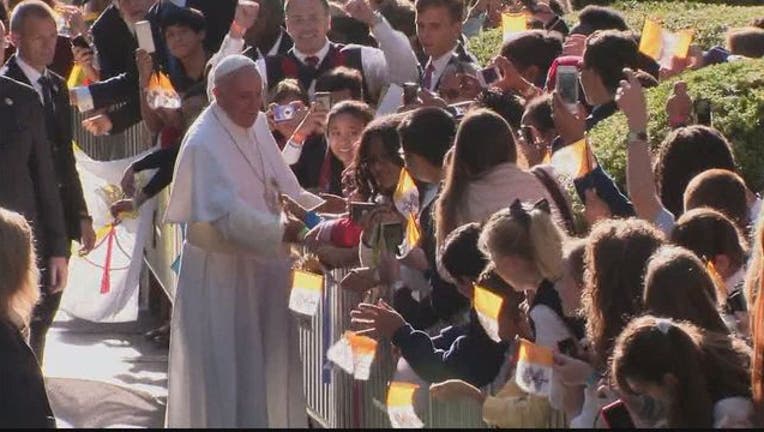 article
Pope Francis will soon be departing Washington, D.C. but not before one last day marked by another first. Later this morning he will become the first pontiff in history to speak to a joint meeting of Congress. He'll also carry his message of humility to St. Patrick's Church where he will dine with a group of homeless
So if you are in D.C. hoping to catch a glimpse of the pontiff before he leaves for New York, here are the 5 things you'll need to know:
#1 SECURITY WILL BE TIGHTER: A day after a 5-year-old girl made her way through a security barrier and onto his parade route – you can bet security surrounding Pope Francis will be extra tight for his visit to the U.S. Capitol. Plan for security screenings and checks at every stop – so build in some extra time so that you can make it on time. A complete list of prohibited items can be found here: http://www.fox5dc.com/news/23126293-story
#2 TRAFFIC, TRAFFIC, TRAFFIC: You can't beat D.C. traffic around the Capitol on a regular Thursday – so today is guaranteed to be hectic to say the least! Numerous road closures and parking restrictions are in place and will be until Pope Francis leaves town. Plan ahead and use Metro if you can. Check here for a complete list of closures: http://www.fox5dc.com/news/23126293-story
#3 MORE GREAT WEATHER: Another great weather day for those who will be outside of the Capitol Thursday. It will start out chilly but should warm up to the 80s so dress appropriately.
#4 APPEARANCE AT WEST FRONT OF THE CAPITOL???: Rep. John Boehner said that Pope Francis expressed an interest in making a brief public appearance on the West Front of the Capitol depending on his schedule after his speech to Congress. This could happen just after 11 a.m. – but it's all about timing today!
#5 MORE ACTION ON THE MALL: The Pope won't be alone along the National Mall today. Musicians, leaders, and climate activists are holding a free rally for climate change on the National Mall between 3rd and 7th Streets. Moby, Rev. William Barber, Victoria Justice, Natasha Bedingfield and Sean Paul are scheduled to attend.