People in Houston react to passed GOP income tax measure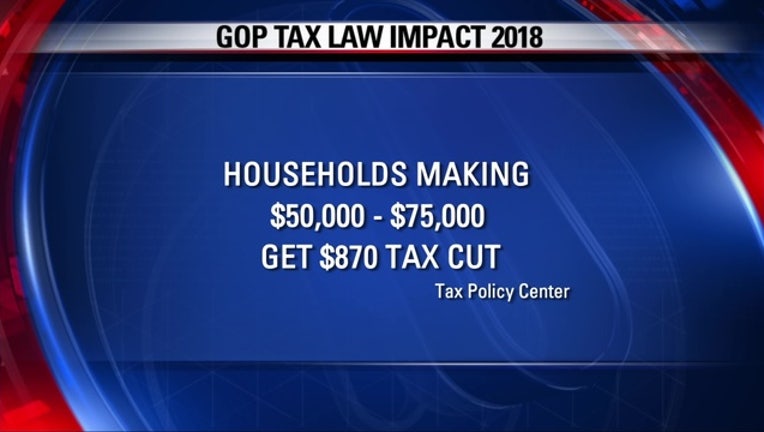 article
HOUSTON (FOX 26) - It's not too much of a stretch to expect what people in the River Oaks subdivision of Houston think of President Donald Trump's approved income tax plan -- the lions' share loves it. Less to pay on what they earn, less to pay out on the wealth they leave behind and a huge break for the corporations whose stock they own.
But what about the working class, the ones who drive backhoes and get their hands dirty for a living?
Mechanic Mack Spears is pleased with the new law.
"I think that anytime taxes go down, the economy goes up," says Spears. "I think if Chuck Schumer and Nancy Pelosi are mad about the tax bill, it's probably good for the country."
Analysis by the Tax Policy Center found a Houston family with a household income of between $50,000 and $75,000 will get an average tax break of $870 dollars next year. That's almost enough for two months worth of groceries and four new tires.
By comparison, people living in wealthy neighborhoods like River Oaks, who make more than a million dollars annually, will get a substantially larger tax cut of almost $70,000 a year.
It's the kind of disparity that rubs Raphus Foley the wrong way.
"They just going to give them the money," said Foley. "It sure seems like a payback to me."
Millions of Americans will need to save every available dollar they get back from the government to pay for health care coverage. That's because the GOP-driven tax law eliminates vital funding for the Affordable Care Act, essentially driving a stake through the heart of "Obamacare."
Business owner Rusk Elatassi calls the measure misguided.
"It is a tragedy," says Elatassi. "You should not go into bankruptcy. You should not be able to die in this country, the greatest country in the world like a lot of Republicans and their patriotic spirit always say, because you can't afford you doctor. It's just not right."
That said, 95 percent of households throughout the U.S. will see their tax bills decrease next year.