NOAA maps show street-by-street views of Florence's impacts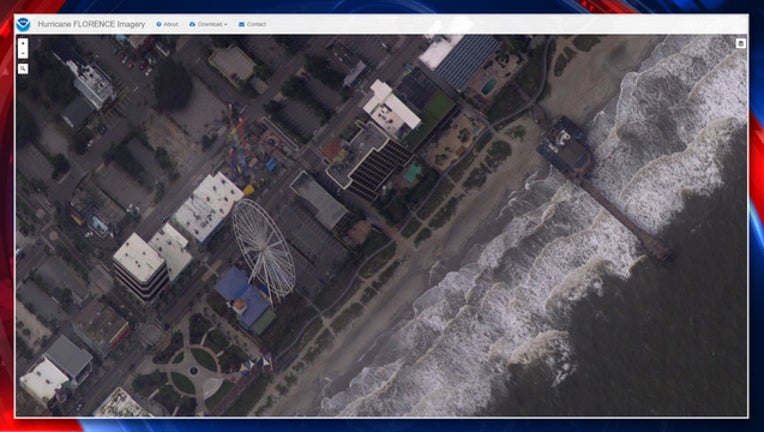 article
TAMPA (FOX 13) - The extent of Hurricane Florence's impact to the Carolinas is becoming clearer now that the federal government is publishing aerial photos taken during recent survey flights. 
Imagery posted on an interactive map was taken by NOAA's Remote Sensing Division to support homeland security and emergency response needs after the storm.  The photos – taken during long sweeps by airplanes starting on Saturday – show a street-level view of parts of North Carolina's Outer Banks and the northern half of South Carolina's coast, including Myrtle Beach.
LINK: See NOAA's damage map
The imagery does not appear to reveal much significant damage to the coast, but the Wrightsville Beach and Wilmington areas – where Florence's eye made landfall – do not appear have been imaged as of Monday afternoon.
Notably, the Oceanana Pier in Atlantic Beach, reported to be badly damaged, is not among the areas with available imagery.
NOAA says the website will be updated every 12 hours as more flights take place.
Hurricane Florence made landfall Friday morning as a Category 1 storm – weaker than initially forecast, meaning less damage along the coast. But the slow-moving storm dumped as much as 34 inches of rain in parts of North Carolina, leading to dangerous flooding.
At least 20 deaths are blamed on the storm.
NOAA's interactive damage map can be found at https://storms.ngs.noaa.gov/storms/florence/index.html.  Note that it may be easier to navigate the site from a desktop computer instead of a mobile device.
More details: https://oceanservice.noaa.gov/news/sep18/florence-storm-imagery.html