Mendocino Complex Fire more than half contained, firefighter dies in traffic accident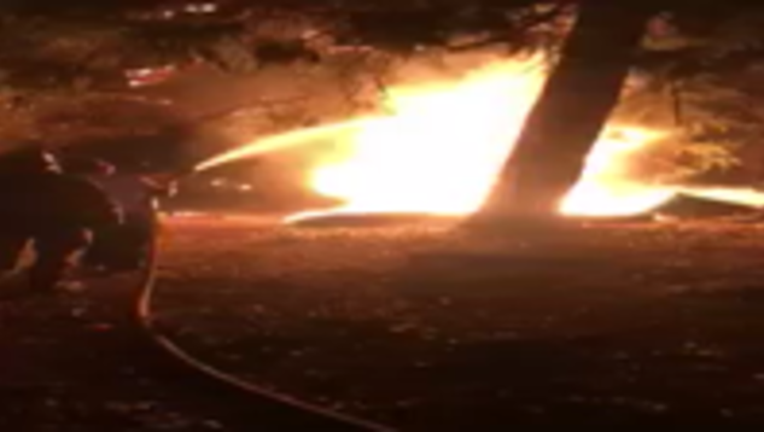 article
LAKEPORT, Calif. (AP/KTVU) - California fire officials say the largest blaze ever recorded in the state is now more than half contained.
But the California Department of Forestry and Fire Protection says Thursday it will still take several weeks to fully surround the massive wildfire in Northern California, called the Mendocino Complex Fire, because it's burning in steep terrain that's hard to reach.
Cal Fire says the blaze that has charred 475 square miles (1,230 square kilometers) of brush and timber is 51 percent contained.
On Thursday, CalFire also reported the death of a heavy equipment mechanic. He had been assigned to fight the Carr Fire in Redding, Calif. And he was killed as a result of a traffic accident on Highway 99 in Tehama County. 
In Southern California, a forest fire that's prompted evacuations in canyon and foothill neighborhoods south of Los Angeles continues to grow with minimal containment.
New evacuations were ordered Wednesday. Flames are creeping down hillsides toward homes in the city of Lake Elsinore, where crews are prepared to provide structure protection.
For two weeks a dull haze and the faint smell of smoke from more than a dozen distant blazes have blanketed many California cities, forcing summer campers to stay inside, obscuring normally bright skylines and leaving cars covered with ash.
Smoky air from blowing winds is nothing new in California, but air quality experts say it's rare for the dirty air to linger for so long, a reality of ever-larger fires that take longer to extinguish.
The haze stretches from the foothills of the Sierra Nevada mountain range to Sacramento and hovers over the San Francisco Bay Area, with most major population centers in between suffering air quality that's considered dangerous for children, the elderly and people with asthma or other respiratory conditions.