Man, his 3-year-old son hurt in drive-by shooting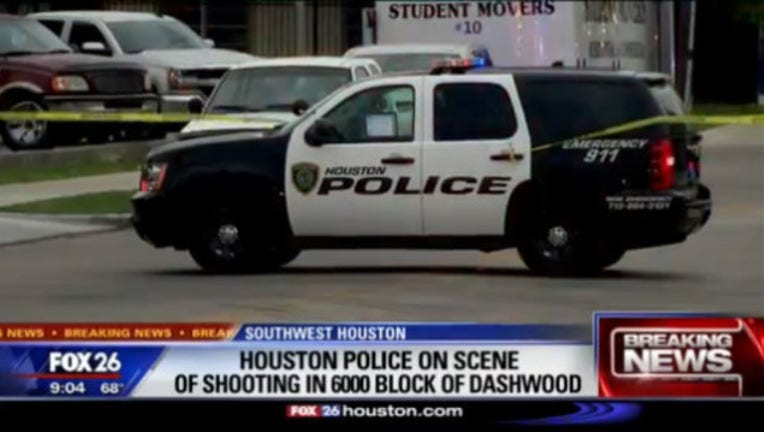 article
HOUSTON (FOX 26) - A man and his 3-year-old son were injured following a drive-by shooting in southwest Houston.
The man was driving on Dashwood Drive on at around 5:30 p.m. Thursday when a group of 7-to-10 males were hanging out in the parking lot of the Rampart Shopping Center. It was then when someone fired gunshots at the group from a gold Cadillac.
The Cadillac, which is believed to be a newer model, continued its path down Dashwood Drive before making a U-turn to come back and turn onto Rampart Street where the suspects inside the Cadillac fired gunshots again on the group of males. One of the males in the parking lot fired gunshots toward the Cadillac. A 21-year-old Hispanic man who was with the group was shot in the neck and is expected to survive.
While the shooting was taking place, the man who was driving with his two children in the back seat, ages 7 and 3, was traveling on Rampart Street to cross the intersection at Dashwood Drive. The three-year-old child was shot in the foot as was the father. The seven-year-old child was not injured during the incident. The man and and his young son were treated for injuries determined not to be life-threatening.
"We take this very seriously, as we've been saying for the last couple of weeks, the chief, the mayor," said Houston Police Department Executive Assistant Chief Matt Slinkard during a news conference at the crime scene. "We will not stand idly by while criminals hurt our most vulnerable and our children. We will simply not stand for it." 
No arrests have been made and Houston police are pursuing all leads. The motive is unknown at this time, but police believe the shooting was gang related. Anyone with information is encouraged to contact the HPD homicide division by phone at 713-308-3600 or Crime Stoppers of Houston at 713-222-8477 (TIPS).