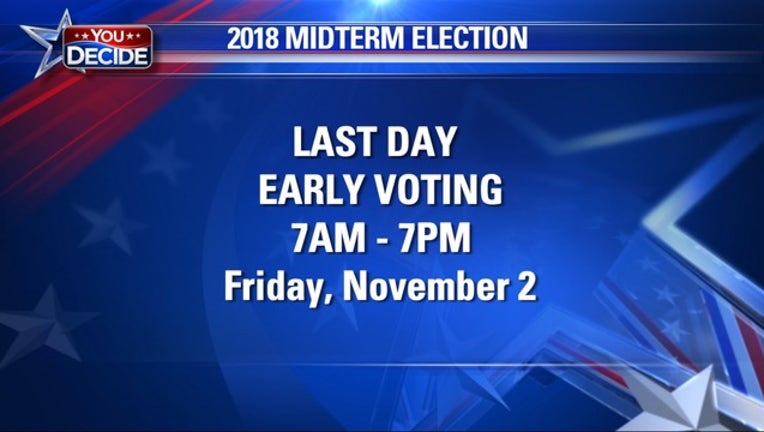 article
HOUSTON (FOX26) - Today, Friday, November 2, is the last day of early voting.for people who are registered to vote in the midterm elections.
Polls in Harris, Fort Bend, Montgomery, Galveston and Brazoria counties will be open: 
Registered voters can cast their ballot at any early voting location in their county. Other nearby counties have different voting schedules, so check your county for specific times and locations
For other counties in Texas check  VoteTexas.gov
Election Day is Tuesday, November 6th. Voters will cast ballots in their designated precincts.
Each voter will be required to show one of the following forms of photo identification at the polling
location in order to cast a ballot.
• Texas driver license—unexpired or expired less than 4 years-issued by the Texas Department of
Public Safety (DPS)
• Texas Election Identification Certificate (EIC) issued by DPS. For more information on the EIC
application process please visit www.txdps.state.tx.us/DriverLicense/electionID.htm.
• Texas personal identification card issued by DPS—unexpired or expired less than 4 years
• Texas concealed handgun license issued by DPS—unexpired or expired less than 4 years
• United States military identification card containing the voter's photograph - unexpired or expired
less than 4 years
• United States citizenship certificate containing the voter's photograph
• United States passport—unexpired or expired less than 4 years
Voters who do not present a valid form of acceptable identification will be permitted to cast a
provisional ballot. These voters have until Monday, November 12, 2018 to present acceptable
identification at any office of the Harris County Tax Assessor-Collector (Branch Offices: Mon.-Fri., 8:00
am-4:30pm; Main Office/Downtown: Mon.-Fri. 8:00am