ICE raids planned in LA and at least 8 other US cities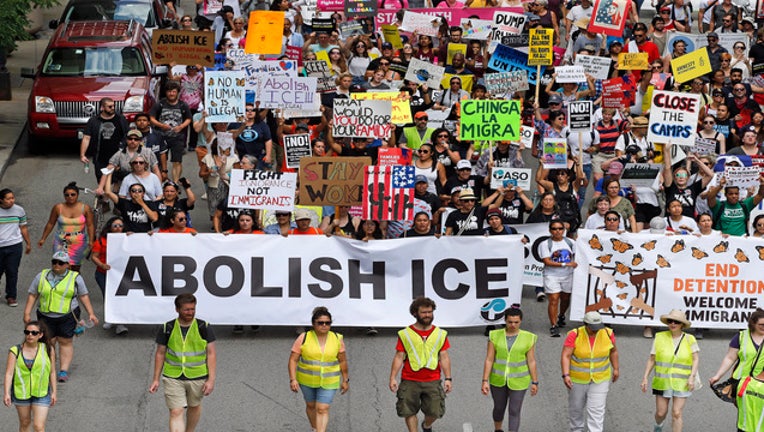 article
LOS ANGELES - The Southland's immigrant communities are bracing Sunday morning for planned mass arrests by federal immigration authorities as protests continue and local law enforcement agencies insist they would not be taking part in such actions.
Immigration and Customs Enforcement agents were expected to carry out raids across the country, targeting an estimated 2,000 people who have previously been ordered deported. Los Angeles is among the 10 cities expected to be included in the raids. Raids are also anticipated in San Francisco, Denver, Miami, New York, Chicago, Baltimore and Atlanta although similar actions in Houston and New Orleans have reportedly been postponed due to Tropical Storm Barry.
Hundreds of people rallied against President Donald Trump's promised deportation raids in downtown Los Angeles, across the country and in several other countries late Friday and again on Saturday.
"Everybody knows that every country has a right to secure its borders and enforce its immigration laws," former Los Angeles Mayor Antonio Villaraigosa told a crowd during one of the weekend demonstrations. "But we do so consistent with our values."
The raids were originally announced in a mid-June Twitter post by President Donald Trump, but were postponed for two weeks for what he said was a chance for Congress to come up with comprehensive immigration reform legislation. It is unclear where those efforts stand, but ICE officials
announced late last week that the raids would start today and continue for several days.
"They're going to take criminals out and put them in prison or put them in prison in the countries they came from," President Donald Trump told reporters Friday morning. "We're focused on criminals as much as we can."
House Minority Leader Kevin McCarthy, R-Bakersfield, echoed that sentiment, saying ICE actions are aimed at people who have been ordered out of the country.
"If you have come to this position, you've been here years, you've gone through the court system, you've been found that you have to be deported," he said. "You have to follow the rule of law."
News of the planned raids has sparked outrage among immigrant-advocacy groups, saying the move was an effort to spark unrest among immigrant families. They also contend that while raids may target criminals, other immigrants are often arrested during such actions.
Los Angeles County Supervisor Hilda L. Solis said immigrants have the right to refuse to open the door if ICE agents show up at their homes.
"If they don't have a warrant with your name on it, you don't have to answer," she said.
Solis issued a statement saying the county "will do everything in its power to ensure that no child regardless of citizenship status will be left alone or abandoned."
"Everyone deserves to be treated with dignity and respect," she said. "Forcibly separating children from their parents is traumatizing and inhumane. Children and their families enduring this type of trauma suffer from lifelong emotional wounds. To rip a child from the warm and loving embrace of their family is an unspeakable crime against humanity. The United States has been and will always be a nation of immigrants. I call on all Americans to reject the politics of division, hate, and fear."
Los Angeles Mayor Eric Garcetti and Los Angeles Police Department Chief Michel Moore have both insisted that city officers will not assist ICE agents in raids. Los Angeles County Sheriff Alex Villanueva said he was strongly opposed to the raids.
"The presence of undocumented residents in our communities calls for compassion, not threats of deportation and family separation," Villanueva said. "As your Los Angeles County sheriff, I stand for everyone's public safety and understand a basic principle of law enforcement, which is that we cannot ensure public safety if residents are afraid to contact law enforcement to report a crime."
A lawsuit filed Thursday in New York by the American Civil Liberties Union Foundation of Southern California and other groups alleges that constitutional due process requires the government to bring arrested families and children before an immigration judge so they can have a day in court before facing deportation.
ACLU officials said the suit aims to protect refugee families and children who fled widespread violence in El Salvador, Guatemala, Honduras and other countries at the hands of their governments and murderous gangs. For many of these migrants, obtaining asylum in the U.S. "could be a matter of life and death," according to the ACLU.
ICE spokesman Matt Bourke said the agency "prioritizes the arrest and removal of unlawfully present aliens who pose a threat to national security, public safety and border security."
He added that 90% of those arrested by ICE's Enforcement and Removal Operations division last year had either a criminal conviction, pending criminal charges or had illegally re-entered the country after previously being removed.
"However, all of those in violation of the immigration laws may be subject to immigration arrest, detention and -- if found removable by final order -- removal from the United States," he said.
Solis said L.A. County "stands strong and unified in opposition to federal immigration enforcement that separates families and instills fear in our residents."
The county is home to 3.5 million immigrants, "and our immigrant population makes significant contributions to the economy and diverse culture of our county," she said.
CNS contributed to this report.