Houston SWAT standoff: Police say man shot neighbor, himself at apartment on Yorktown
HOUSTON - A woman was shot when her neighbor opened fire from his apartment before barricading himself inside early Monday morning, Houston police say.
The shooting prompted a SWAT standoff that ended with the suspect being transported to the hospital with a serious self-inflicted gunshot wound, according to police.
MORE: Wife accused of murdering husband on Facebook Live
The incident began shortly before 2 a.m. when patrol officers were called to an apartment complex in the 2600 block of Yorktown for a disturbance.
According to police, officers found a man standing on his balcony, and there was some yelling between the man and officers before he went back into his apartment.
Police say the man is believed to have then fired a rifle four times out of his apartment. One of the rounds went into a unit across from him, striking a woman in the foot, authorities say.
Officers used shields to go up to the woman's apartment and get her out so she could be transported to the hospital.
MORE: Galveston police search for 2 who allegedly stole military medallions from Korean War Memorial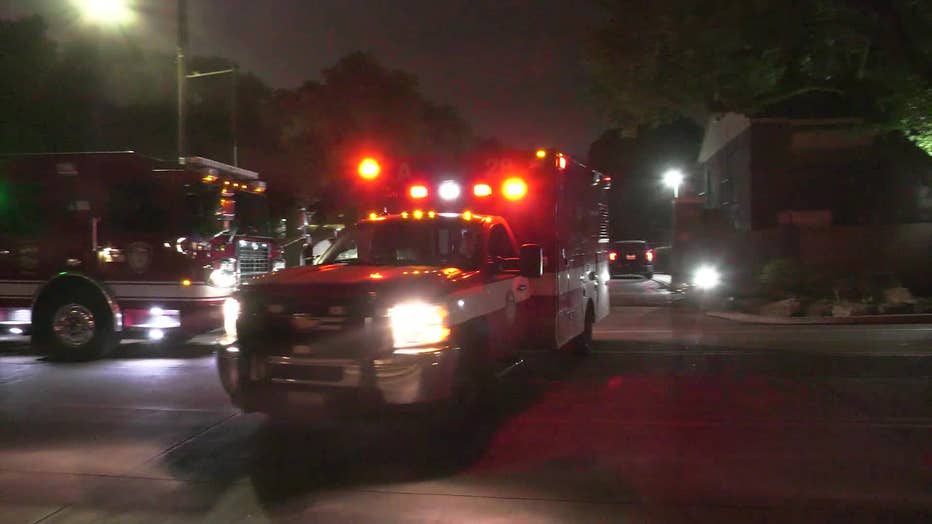 An ambulance is seen at the scene of a SWAT standoff on Yorktown.
Authorities say the man barricaded himself inside his apartment, and SWAT and negotiators were called out the scene. They spoke with the man for hours.
According to police, the man came out on the balcony a few times unarmed and talked with negotiators. At some point, police say, he went back inside and fired another rifle round through his door. 
The surrounding apartments had been evacuated, and no one is believed to have been injured.
Police say officers heard a sixth shot, and the man, who was still on the phone with negotiators, confirmed that he had shot himself. Authorities say the man crawled out of his apartment, and SWAT doctors and EMT began to treat him.
MORE: Man vanishes while visiting Houston, family says he could be in imminent danger
He was taken to the hospital in critical condition with a gunshot wound to the stomach. He was last reported to be undergoing surgery.
Police say the man will be facing a charge of aggravated assault with a deadly weapon, but could face other charges.
The investigation into the incident and what prompted the man's actions continues.