Introducing Shell Energy Stadium: Houston Dynamo, Dash home gets new name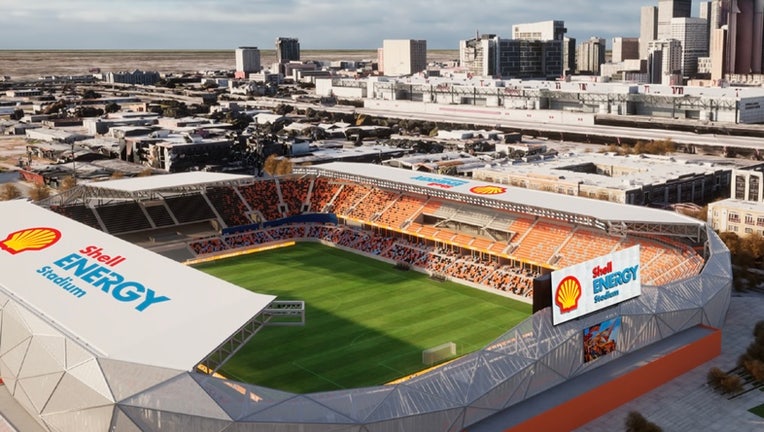 article
HOUSTON - The home of the Houston Dynamo and Houston Dash is now named Shell Energy Stadium, replacing PNC Stadium.  
Shell Energy is the new naming rights partner for the Dynamo and Dash.
The naming rights contract with PNC Bank expired at the end of 2022. 
"We are very excited to have a new naming rights partner on our stadium, said Jessica O'Neill, chief operating officer for the Houston Dynamo Football Club, in an interview with FOX 26 Sports. "This stadium will open as Shell Energy Stadium on March 18th for the first time for the public when the Dynamo host Austin FC here for the season opener.  So extremely excited to have a new name for our stadium here downtown." 
Shell Energy Stadium is the fourth name for the first MLS soccer-specific stadium in a downtown district. 
CLICK HERE FOR MORE SPORTS NEWS
The facility, which opened in 2012, was originally known as BBVA Compass Stadium from 2012-2019. The name was changed to BBVA Stadium in 2019 and again to PNC Stadium in 2021.  
The relationship between the Dynamo and Dash and Shell Energy actually began nearly a year ago.  
"We had an agreement and a partnership that we introduced for the first time with Shell Energy about this time last year," O'Neill said. It was February 22 (2021). They had their name on one of our gates at our stadium and then two of our premium areas behind the goal.   
 "So we had that relationship started. It's been a year of doing a lot of things in the community with them and activating with them in a lot of ways, and I have never seen a partner as engaged as they are in a lot of ways. So this grew legs of how do we make this a more transformative partnership and here we are today."
O'Neill said the relationship between the Dynamo and Dash and Shell Energy is about more than just the name on the stadium. 
"A lot of the conversations that we've had with the team at Shell Energy is the focus on sustainability," O'Neill said. "Obviously being a core piece of their business model and a key pillar for us, and that goes much more beyond what we do here in our stadium downtown. It's the way that we think about our relationship with the community. Our relationship with the environment. Our obligations to make this world a better place and we really believe that we can do that with them in a lot of ways. There's efforts in the stadium to make sure that we reduce our carbon footprint by 50% in the next five years. Those are ongoing and that will really be a game changer for us as to how we look at what difference do we make moving forward." 
The Houston Dynamo Football Club worked to develop the relationship with Shell Energy that transformed them from a partner to the main partner with the franchise. 
"The year that we had with them was really, really important. There's a team behind the team. There's a great group of people at our organization that were working very closely with Shell over the past year to make sure that they felt the love of the Dynamo and Dash, and this is what we want all of our partners to feel," O'Neill said.   
"That this sport, it brings people in like no other. It's a really incredible atmosphere when you're watching soccer live and we're able to do it for both men's and women's at a professional level here in downtown. They were so engaged with us. They were so bought in and I think they saw the vision, a long-term vision of what we want to do here, which is make us best in class, destination of choice for our fans, for players, for the best coaches and staff in the world, for everybody to want to come here, from in and around Houston and as they're visiting from other markets."  
According to a source, Shell Energy's naming rights contract with the Dynamo and Dash is eight years for $40 million, with an average annual value of $5 million.
A Dynamo official declined comment on the terms.