Home Run Dugout: New virtual baseball experience opening in Katy
HOUSTON - Batter up! A new baseball entertainment concept and sports bar is soaring into the Houston area.
Home Run Dugout is a first-of-its-kind sports bar, restaurant, and entertainment venue opening in Katy on Thursday at 1220 Grand W. Boulevard. The bar offers guests a new way to play baseball with reinvented batting cages and immersive, socially gamified experiences for all ages and kill levels.
The concept was confounded by Nick Hermandorfer and Tyler Bambrick who wanted to give everyone the opportunity to experience the joy of hitting a home run.
SUGGESTED: Hotel ZAZA Spring Fling 'Cocktail Showdown' to help support Houston Food Bank
"People are seeking out activities to experience with friends and family besides going to a bar and watching TV," said Hermandorfer. "We believe life is all about shared experiences, and we are confident that a little friendly competition is the best way to bring people together over drinks, laughter and home runs."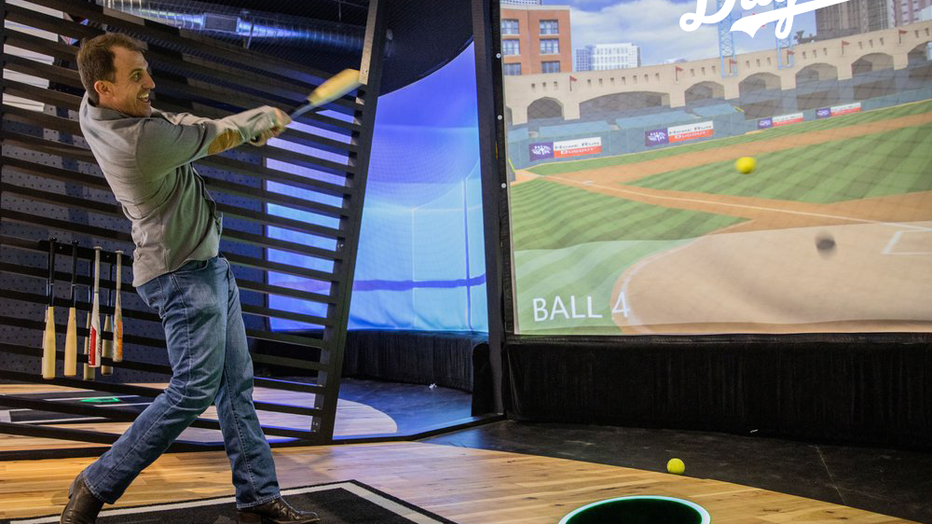 Home Run Dugout batting bay (Courtesy of Home Run Dugout)
Home Run Dugout is 46,000 square feet and has 12 indoor Batting Bays which are similar to batting cages but without the cage, state-of-the-art pitching technology, and augmented reality allowing players to simulate their hit in any MLB stadium. This means you can simulate hitting your very own home run in Minute Maid Park if you wanted to! The cage also tracks the ball's exit velocity, distance, and location.
The cages get better with a patented ground-up, soft-toss pitching machine in each Batting Bay. It sends pitches over the strike zone with no risk of foul balls, as the machine minimizes the horizontal trajectory of a pitched ball by popping the ball up from the ground.
FAMILY FUN: Disney on Ice show for Frozen, Encanto coming to Houston in April
Guests can enjoy a 20x15 foot screen and five TVs in their Bay, allowing players to track their hitting stats and be in control of whatever sporting event or another programming they want to watch.
Each Batting Bay can fit groups of up to 12 people.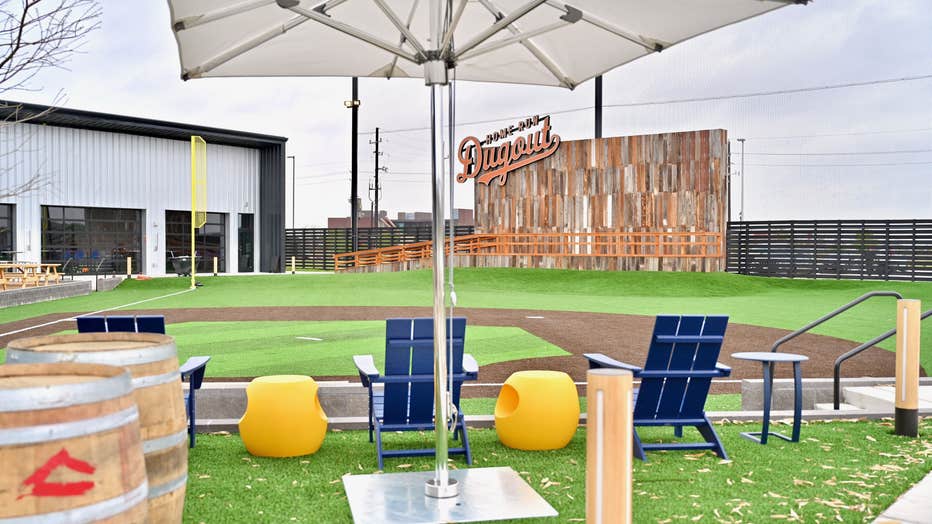 Wiffle Ball Field (Courtesy of Alex Montoya)
For those looking to play outside, the venue has a Biergarten Baseball mini-field which is the perfect spot for league play or a pick-up game of whiffle ball or kickball. The field has stadium lights, an outfield net, RS3 Turf, and a vintage scoreboard. It's an open play set-up on a first-come, first-served basis and eventually will host league play, Dinger Derby tournaments, movie nights, and concerts. 
Beyond baseball, the venue features a full-service restaurant, a concert stage, and three bars with a massive patio and Biergarten wrap-around with shaded seating, fire pits, and Adirondack and hanging papasan chairs, with seating for nearly 500 guests.
RELATED: Rooftop Cinema Club Uptown to hold Super Mario Bros. tournament ahead of movie premiere
The restaurant's menu features elevated ballpark-inspired fare, with shareable food like crispy chicken sliders, smoked chicken wings, buttermilk onion rings, and more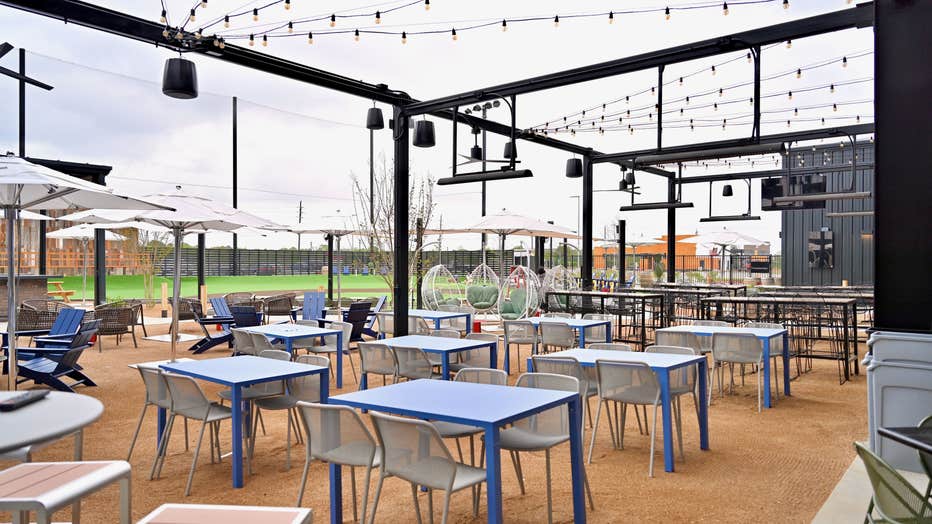 Baseball Biergarten (Courtesy of Alex Montoya)
It wouldn't be a simulated ball part without hotdogs! The grill will be serving up our different types of dogs, including a Chicago dog, ballpark classic, dugout dog with chili, spicy slaw, and crispy onions, and the NY classic with sauerkraut and mustard.
MORE: Whiskey Riot to bring more than 200 brands together for Houston's largest whiskey festival
Staying true to its ballpark roots, the hot dog grill will serve up four different types of dogs, including a Chicago dog, ballpark classic, dugout dog with chili, spicy slaw, and crispy onions, and the NY classic with sauerkraut and mustard.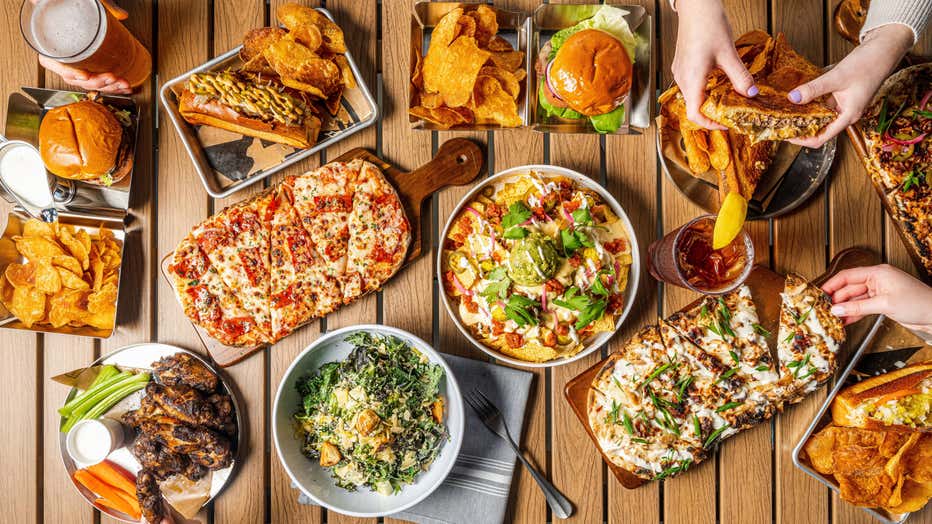 Menu spread at Home Run Dugout (Courtesy of Duc Hoang)
"We're an immersive baseball entertainment experience, but we're also a full restaurant and bar," said Bambrick. "We look forward to bringing Katy a new happy hour hangout, game day watch party headquarters, date night spot, and corporate event venue. Home Run Dugout has an experience for everyone."
Batting Bay reservations for groups of up to 12 will open soon to start booking for the Grand Opening day.
FIND OUT MORE THINGS TO DO AROUND HOUSTON
"Hitting a home run is an unmatched experience, whether you're an athlete or not," Hermandorfer said. "Our mission is to share that experience with as many people as possible, rain or shine. Even if you want to sit it out, you can still enjoy a cold beverage and delicious food while heckling your friends and family at bat."