Houston-area high-water locations, street flooding spots
HOUSTON - After severe weather roared through the Houston area on Tuesday, high-water spots have been reported on some Houston-area roadways.
Plan for a long afternoon commute and check conditions before driving.
MORE: Tornado watch for several Southeast Texas counties
LIST: School districts cancel after school activities, release students early
Here's a list of high-water locations located on Houston-area roadways.
FROM HOUSTON TRANSTAR
IH-10 East Westbound After Jensen Dr - 2 Frontage Road Lanes
IH-10 East Westbound Before Mercury Dr - 3 Frontage Road Lanes
IH-10 Katy Westbound At Smith St/ Louisiana St - Entrance Ramp
IH-45 North Northbound After Tidwell Rd - 3 Frontage Road Lanes
SH-99 Lanier Pkwy - North Eastbound At Huffsmith-Kohrville - All Mainlanes, Left Shoulder, Right Shoulder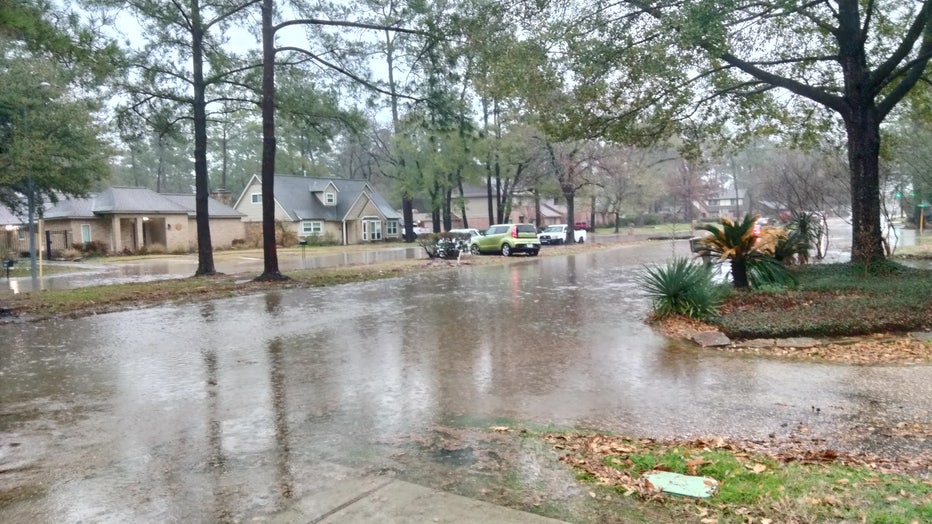 Flooding at Cypresswood Dr. and Glennway. Five cars swamped. People getting stuck crossing esplanade. (Photo courtesy of Mark Foodwin) 
HARRIS COUNTY
- 17400 Grant Road/Kitzman Road
- Grant Road and Telge Road
- Grant Road Just North of Spring Cypress
- Louetta Road and Seven Pines Drive
- Cypresswood and Champion Forest
- Aldine Westfield and Cypresswood Drive
-Grant Road and Shaw Road
-Huffmeister and Cypress RoseHill
-Woodriver and Aldine Westfield
- Cypresswood Dr at T C Jester Blvd
- Cypresswood at SH 249
- 45 at West Rd southbound feeder
- Kieth Harrow Blvd at Peebles Dr
- Tuckerton Rd at Greenhouse Rd
- 3900 Gladebrook
- Bowsman at Evansville
- Jones at Cypress N Houston
- SH 249 at Louetta
- Hilda at Becker
- SH 249 at Cypresswood and Louetta
- Eldridge at Malcomson
- FM 2020 btw Becker & Bauer
- Sugar Ridge at Lakeview Haven
- Ridge Park at River Garden
- Field Store at Knebel
- Barker Cypress at Cypress Point
- Lutheran Church at 290
- Spring Cypress at Village Creek
- N Eldridge at Mike Dr
- Telge at Louetta & shut down at Brock Creek N
MONTGOMERY COUNTY
- FM 149 between Jackson Rd and Magnolia Fire Dept #188
FORT BEND COUNTY
- Hwy 90 and TX 99
- Highland Knolls and Summer Water Lane, Katy
- Kingsland near Cane Island, Katy
- FM 762 and Hwy. 90, Richmond
The FOX 26 Weather Team is closely monitoring developments. They will continue to keep you up-to-date online, on-air, and on social media.
You can also stay up-to-date 24 hours a day by downloading the free FOX 26 weather app. You'll receive weather alerts for your location, along with video weather updates.