Governor Abbott caught 'cheating on Chick-fil-A' with Popeyes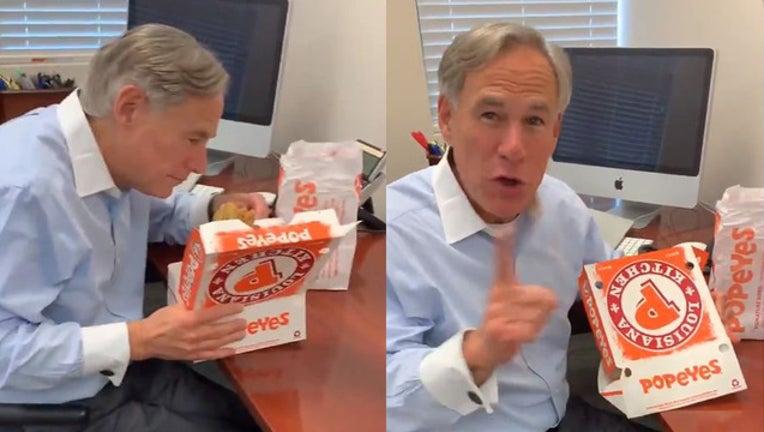 AUSTIN, Texas (FOX 26) - Who has the better chicken sandwich? The Popeyes vs Chick-fil-A debate has made it all the way to the Texas Capitol.
Despite Governor Greg Abbott's past support of Chick-fil-a, he was "caught red-handed" dining on Popeyes on Tuesday.
In May, the governor tweeted a picture of his Chick-fil-A meal and wrote, "What are the odd's I'll sign the Chick-fil-A bill? I'll let you know after lunch."
On Tuesday, he shared a video panning from that May tweet to him delving into a box of Popeyes.
"Caught red handed... Cheating on @ChickFilA. I swear it's a one time fling. #PopeyesVsChickFilA" he wrote.
"I swear, I'll never do this again. It's the only time I'll ever do this," he says in the video.
The Popeyes vs Chick-fil-A debate has taken social media by storm since Popeyes released a new chicken sandwich. Some Popeyes restaurants have been reportedly sold out of the sandwiches as people wait in long lines to try one.