Harris County Pct. 5 Constable's Office Corporal Charles Galloway laid to rest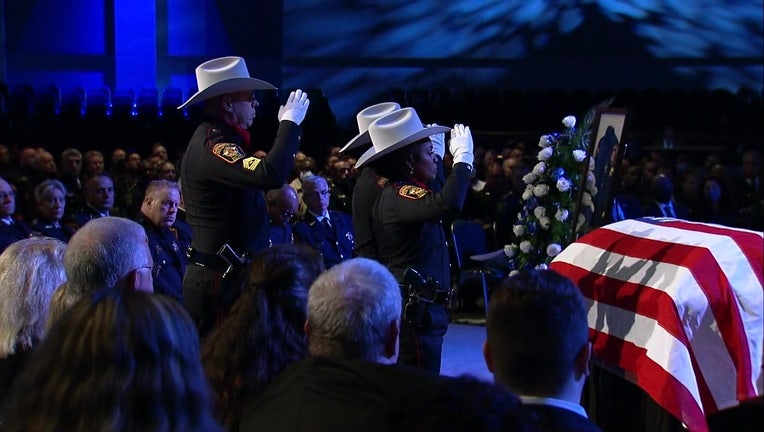 HOUSTON - Funeral services were held Tuesday for Harris County Pct. 5 Constable's Office Corporal Charles Galloway, who was shot and killed during a traffic stop in Houston.
Family, friends, and colleagues gathered at the Second Baptist Church West Campus in the 1900 block of the Katy Freeway at 10 a.m. for the service.
MORE: Corporal with Harris Co. Constable Pct. 5 shot, killed during traffic stop in SW Houston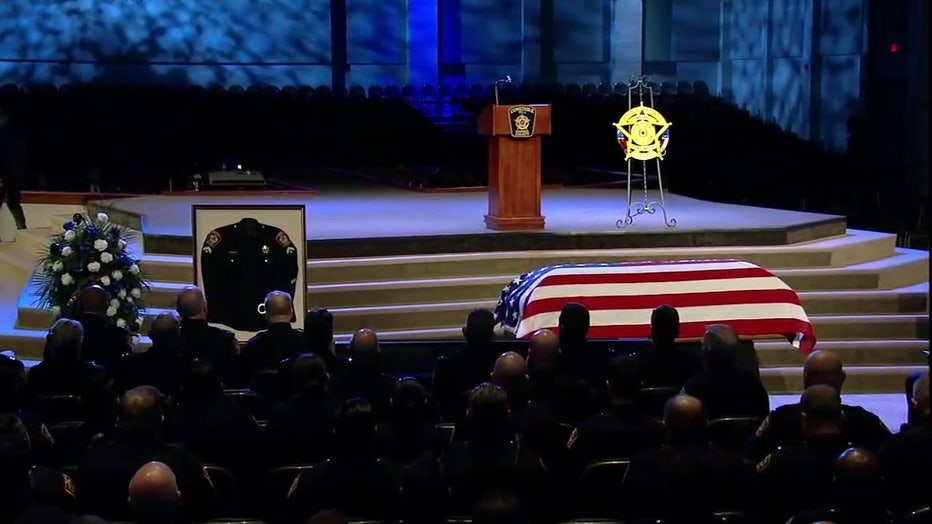 Funeral services are held for Harris County Pct. 5 Constable's Office Corporal Charles Galloway.
Corporal Galloway died in a shooting around 12:45 a.m. January 23 in the 9100 block of Beechnut.
According to the constable's office, Corporal Galloway was conducting a traffic stop when the driver exited the vehicle and fired repeatedly at Corporal Galloway's patrol car. Corporal Galloway died at the scene.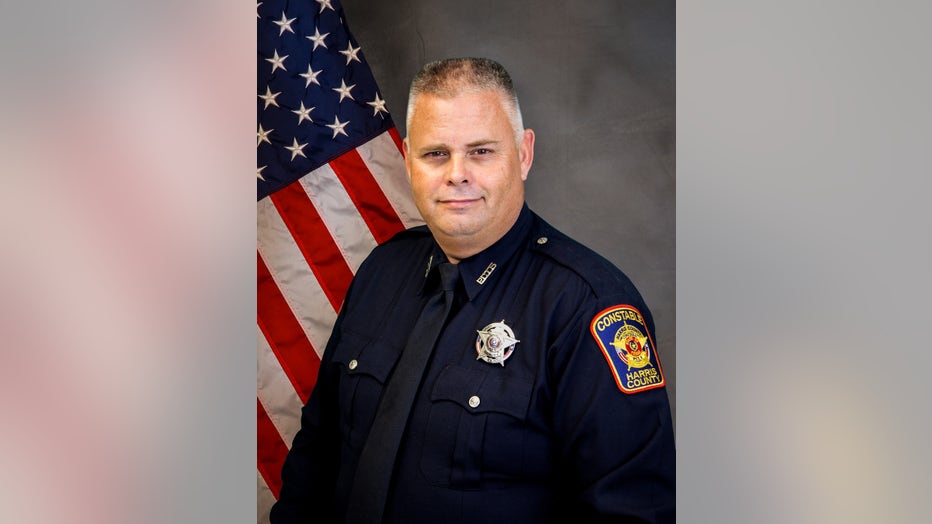 Corporal Charles Galloway (Photo: Harris County Pct. 5 Constable's Office)
Corporal Galloway joined Pct. 5 in 2009. He most recently served in the Toll Road Division, where he served as a Field Training Officer.
The 47-year-old was remembered for a lifetime of contributions, and the tragedy of his loss was on full display during a solemn ritual of remembrance and honor of a fallen officer.
Corporal Galloway was remembered for his selfless service, in 12 years on the force, having left a civilian job to wear the uniform and badge.
"His dream was to make a difference," remembered Precinct 5 Constable Ted Heap, "His dream was to serve his community, and his dream did come true."
SIGN UP FOR FOX 26 HOUSTON EMAIL ALERTS
Standing more than 6 feet tall, Galloway was an imposing presence, who was also remembered for outsized generosity, as well.
"Charles was the type of supervisor who led by example," says Asst. Chief Kevin Hubbard. "There wasn't anything that Charles would ask of you, that he would not be willing to do himself."
But through the pageantry of saying goodbye, under the watchful eyes of hundreds of men and women in uniform who came to bear witness to loss and heartbreak, there was also simmering anger at the repetitive tragedy of violence against those sworn to protect.
"We cannot continue to successfully serve the community we love, when there's this blatant disregard for life," warned Constable Heap.
74 law enforcement officers were killed across the country by violence in 2021, and the new year has begun with an even faster pace. Each one of those tragedies comes with a heavy price, like the one that leaves a hole in the lives of those who knew and depended on Corporal Charles Galloway.
 
5 charged in connection to deadly shooting
Oscar Rosales, 51, is charged with capital murder of a police officer for the deadly shooting of Corporal Galloway.
He was arrested in Mexico on January 26 and brought back to Harris County in Corporal Galloway's own handcuffs. He is being held without bond.
RELATED: Oscar Rosales arrested: Suspect in Houston murder of Pct. 5 corporal has bond denied
Police say four other people have been arrested and are accused of aiding Rosales after the shooting.
Henri Mauricio Pereira Marquez, 42, and Reina Azucena Pereira Marquez, 40, are charged with tampering with evidence. According to court documents, Rosales' common-law wife Reina and her brother Henri are accused of tampering with a vehicle involved in the deadly shooting.
 Jose Santos Gutierrez Cruz, 68, and Jose Romel Hernandez Cruz, 43, are charged with hindering apprehension.