Feinstein and rival de Leon, both Democrats, have moderated discussion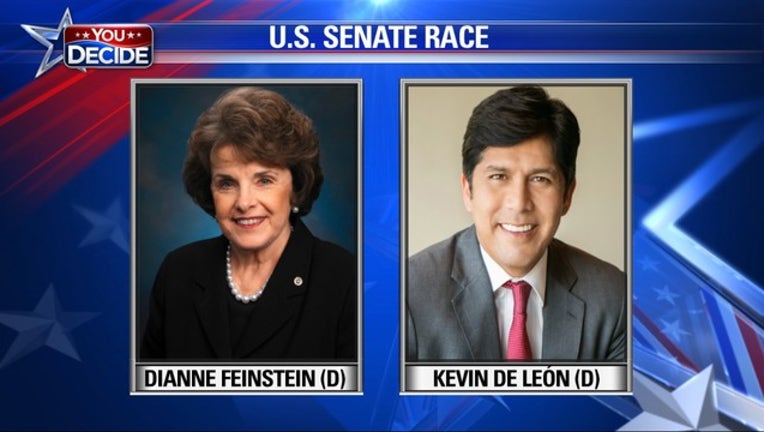 article
SAN FRANCISCO (AP) - U.S. Sen. Dianne Feinstein and fellow Democrat Kevin de Leon are facing off Wednesday in their only scheduled moderated discussion ahead of Election Day.
It's Feinstein's first appearance with an election opponent since 2000 and a chance for de Leon to directly attack her as he searches for a badly-needed boost. Feinstein leads in public opinion polling and has about $4 million left to spend compared to de Leon's less than half a million dollars. The election is Nov. 6 and early voting is already under way.
Feinstein faces a fellow Democrat because California's primary rules send the two candidates who receive the most votes to the general election regardless of party. Roughly half of California Republicans and a quarter of independents said they wouldn't vote in the race, according to a September survey from the non-partisan Public Policy Institute of California.
The institute is hosting Wednesday's event, where President Mark Baldassare asked the two candidates questions and try to limit their engagement with one another. The event  was held in San Francisco and available online. De Leon's team charges it's not a debate because of the format and time of day.
Still, it offers the candidates a chance to share their visions. Both campaigns have focused on immigration, the environment, health care and dealing with President Donald Trump. Feinstein argues she's been a steady leader for Californians while de Leon says he would pursue more progressive policies.
And it comes just after Feinstein was in the spotlight during the confirmation of Justice Brett Kavanaugh to the U.S. Supreme Court. She's the latest target of attacks by Republicans in Washington, including President Donald Trump, who generated chants of "lock her up!" at a recent rally while accusing Feinstein of leaking a letter accusing Kavanaugh of sexual misconduct. Feinstein denies the leak.
De Leon, meanwhile, continues to criticize Feinstein for saying last year that people should have patience with Trump. De Leon has argued Californians can't afford patience and that he better represents California on issues such as immigration. He authored California's so-called "sanctuary" law and various proposals to increase California's reliance on renewable and non-fossil fuel energy sources.
But he's struggled to generate statewide attention. The endorsement from the California Democratic Party hasn't brought in significant cash for the 51-year-old.
Feinstein highlights her environmental protection efforts, including establishing two national parks, and her push to reauthorize the 1994 assault weapons ban she co-authored. Her supporters say her seniority and experience is valuable in Washington. Feinstein, 85, was first elected to the U.S. Senate in 1992.
Neither candidate has aired statewide television ads in the general election.