Fatal Houston crash on S Post Oak Road leaves 2 dead, 3 juveniles hospitalized
HOUSTON - Two people were killed and three juveniles were taken to the hospital after a crash in southwest Houston Monday night, police say.
The crash occurred around 10 p.m. on S Post Oak Road near Anderson Road.
CLICK HERE TO DOWNLOAD THE FOX 26 NEWS APP
Authorities responded to the scene and found two vehicles had been involved in the crash.
The passenger in a white Jeep was pronounced dead at the scene. The 27-year-old driver of that vehicle was transported to the hospital, where he was also pronounced dead.
SUGGESTED: Houston man shot, pistol-whipped during robbery walked to club for help, police say
A teen driver in a gray Hyundai and his two younger siblings, believed to be 12 and 8 years old, were transported to the hospital, police say. They were last reported to be in good condition.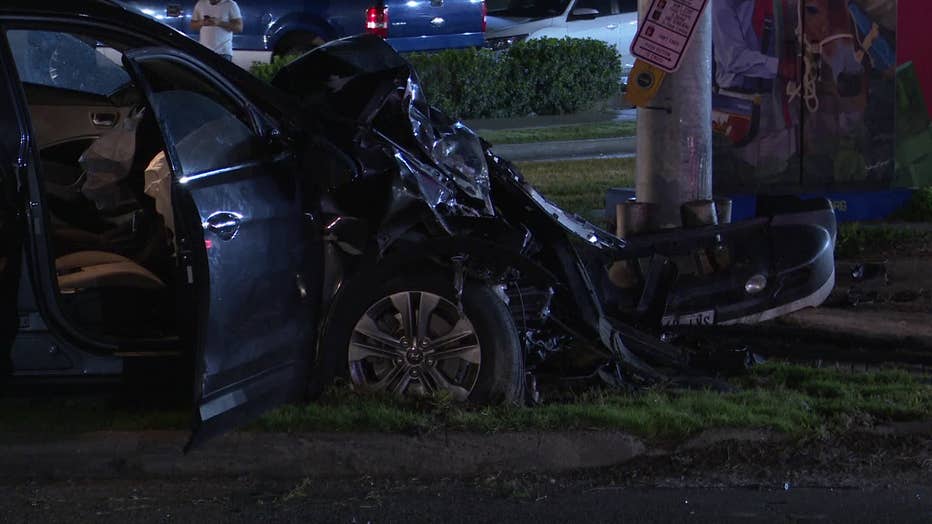 The Houston Police Department investigates a fatal crash on S Post Oak Road.
SUGGESTED: Every single car 'maybe 20 or 30 cars' with busted windows on one Houston street
Investigators reviewed surveillance video from the scene of the crash.
According to police, the gray Hyundai was traveling northbound on S Post Oak and had the green light when the white Jeep going southbound attempted to turn left. Police say the Jeep didn't yield the right of way to the Hyundai and was struck.
Police say there is no indication that alcohol was a factor in the crash. The investigation continues.