Ex-wife of man who police say stalked, killed podcaster and husband in Washington speaks out
HOUSTON - A podcaster and her husband in Washington state are now dead after a man who lived in Houston stalked her to her home, killed the couple, then himself. The suspect's ex-wife is now sharing more details about the shocking case.  
BACKGROUND: Stalker from Texas kills podcaster and her husband in their Washington home, police say
Last Friday, Redmond Police said 38-year-old Ramin Khodakaramrezaei broke into 33-year-old Zohreh Sadeghi's home, shot her and her husband, 35-year-old Mohammad Milad Naseri, before turning the gun on himself. 
Investigators said Khodakaramrezaei was a truck driver. He had started his own business about a year ago, according to his ex-wife.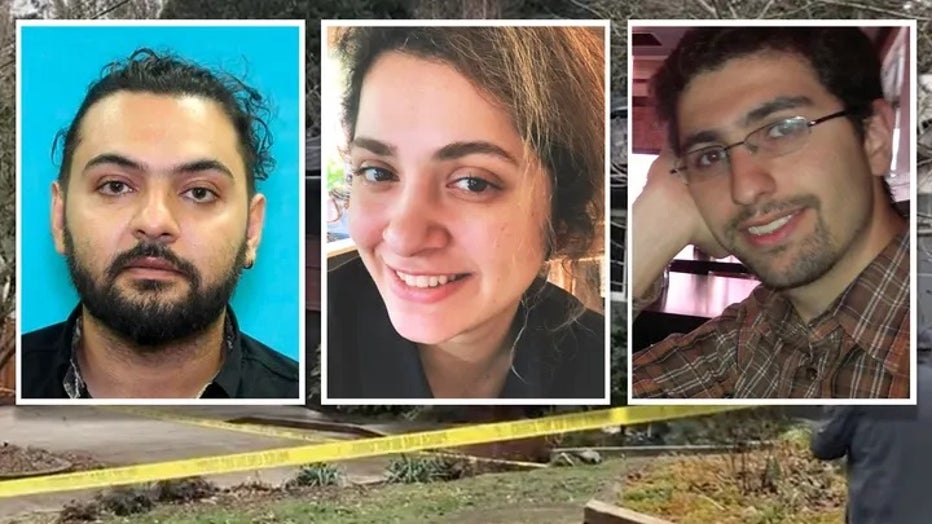 Ramin Khodakaramrezaei, left, is accused of stalking Zohreh Sadeghi, center, and breaking into her home on Friday, where police say he fatally shot her, her husband Mohammad Milad Naseri, right, and then himself. (Background: FOX 13, Insets from left
Records show Neda Meshabi filed for divorce from Khodakaramrezaei in 2018.   
FOX 26 spoke to Meshabi on the phone Monday. She didn't want to have her face shown on camera or have her voice recorded, but revealed she and Khodakaramrezaei were married for seven years and share a daughter together. 
Meshabi said she never imagined her ex-husband would be capable of such a horrific act.  
Meshabi, who works for Harris County, said the two of them are originally from Iran and have no other family in the U.S. 
SUGGESTED: WEEKEND TRIPLE STABBING: 3 men stabbed during weekend family gathering in Houston, suspect arrested
Khodakaramrezaei would confide in her about his romantic relationships after their divorce because had no one else to talk to, according to Meshabi. 
In particular, Meshabi said she remembered her ex-husband's infatuation with Zohreh Sadeghi, a podcaster he'd met on the social media app, ClubHouse. Meshabi said the two appeared to develop a friendship, as Khodakaramrezaei told her they would talk on the phone often and had met in person more than once. 
Meshabi said Khodakaramrezaei was devastated when Sadeghi apparently cut off communication. 
Investigators believe Khodakaramrezaei became obsessed with Sadeghi. 
SUGGESTED: LARGE NOSE BANDIT: Suspect described as having a 'large nose' robs Houston store, police need your help locating him
Documents show Sadeghi filed an application for an order of protection on March 3, a week before her murder. 
Sadeghi wrote in detail to law enforcement about how Khodakaramrezaei would call her and message her husband dozens of times a day, send gifts, and even show up to their neighborhood several times, in hopes of seeing her. 
Their requests for him to stop contacting the couple, only escalated, according to records. 
"This is the absolute worst outcome for a stalking case," said Redmond Police Chief Darrell Lowe.
Andy Kahan, a victim's advocate with Houston Crimestoppers, suggests those with public profiles on social media be cautious when dealing with strangers online.
"This is a classic case of someone who was stalking someone who became obsessed with someone who had a public personality, and then was under the false belief that there was actually some potential for a relationship. And when that wasn't happening, you know, he took the next step."
"I would certainly encourage people not to immediately engage with somebody until you find out who exactly that person is, and then immediately you can probably start telling if something's a little bit off base, or they come on extremely aggressive and too strong, and then you just gotta hold back. If/when that continues, you just got to start documenting every single thing," Kahan said.