Democrats hoping strong turnout spurs them in deep-red Texas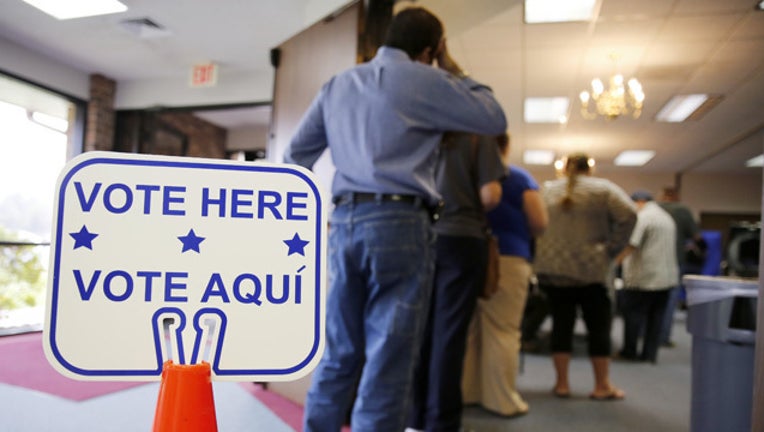 article
AUSTIN, Texas (AP) - Democrats in deep-red Texas kicked off the nation's 2018 midterm primary elections Tuesday with a surge in turnout, dozens of women seeking office and early signs of midterm anger toward President Donald Trump.
The biggest question as polls closed was whether Texas is just the start of what's to come nationwide. Energized Democrats in Texas appeared poised to show up for a midterm primary in numbers not seen in more than a decade, despite the long odds of ousting Republican U.S. Sen. Ted Cruz in November and other statewide officeholders.
Cruz and his Democratic challenger, U.S. Rep. Beto O'Rourke, easily clinched their party nominations for the Senate, while several congressional races packed with candidates were expected to head to May runoffs. Republican Gov. Greg Abbott also cruised to his party's nomination for re-election.
But in an uneasy sign for the GOP with control of Congress on the line this fall, Democrats turned out in force in Texas - one of the safest turfs for Republicans, who've dominated the nation's biggest conservative state for a quarter-century.
College students waited more than an hour to vote in liberal Austin, far-flung rural counties offered Democratic candidates for the first time in years and a tide of anti-Trump activism helped propel nearly 50 women to make a run for Congress. Many were running in a record eight open congressional races this year in Texas - two of which are up for grabs after longtime GOP incumbents abandoned plans for re-election amid scandal.
The surge of Democratic voters included some former Republicans switching this cycle, including 61-year-old Sarah Chiodo of Dallas, who said she changed parties after Trump was elected.
"I hope that our political environment changes. I'm not happy with it today," she said after voting at a Dallas church. "I find it very divisive and dividing of many people and negative. So I'm looking to vote for people who are positive who care about all."
Democratic early voting across Texas' 15 most-populous counties more than doubled that of the last non-presidential cycle in 2014, while the number of Republican early ballots cast increased only slightly. Total Democratic early votes exceeded Republican ones roughly 465,000 to 420,000, though those figures combined accounted for less than 9 percent of the state's total registered voters.
Still, Democrats haven't won any of Texas' 29 statewide offices since 1994, the nation's longest losing streak. That's expected to continue this cycle despite any possible "Trump effect" because Democrats fielded little-known candidates against top Republicans, such as Abbott and Lt. Gov. Dan Patrick. Even Attorney General Ken Paxton, who has been indicted on felony securities fraud charges, had no remains favored for re-election.
Laura Smith, 60, casting a Republican ballot in Dallas, said: "I love President Trump. Absolutely love him."
"He has guts. He's not afraid. He's strong. He's a leader," said Smith, who works in a dentist's office.
A record six Texas Republicans and two Democrats are leaving Congress, meaning the state will be losing clout on key House committees. But none of those open seats are expected to flip. They've drawn so many hopefuls from each party, that most primary races won't have anyone winning a majority of Tuesday's votes, meaning runoff elections May 22 will determine who will be on November's general election ballot.
Democrats have a better shot in November of unseating three Republican congressional incumbents - Rep. Pete Sessions in Dallas, Rep. John Culberson of Houston and Rep. Will Hurd in a district stretching hundreds of miles from San Antonio to El Paso. Hillary Clinton beat Trump in all three districts in 2016, but Democratic primary runoffs may be necessary in all three races.
O'Rourke, a former punk rock guitarist, is one of the Democrats leaving his House seat and has launched a longshot bid to unseat Cruz. Neither O'Rourke nor Cruz had faced serious primary challengers, but O'Rourke has outraised Cruz and the incumbent has warned conservatives against complacency, suggesting that liberals will "crawl over broken glass in November to vote," against Trump and the GOP.
The Democrats have had their own internal strife in Texas over congressional hopeful Laura Moser, who moved from Washington to her native Houston to try and unseat Culberson. The Democratic Congressional Campaign Committee, fearing Moser may be too liberal to win the general election, blistered her for comments from a 2014 Washingtonian magazine article in which Moser said she'd "rather have her teeth pulled out" than live in rural Paris, Texas.
Moser kept things positive while campaigning in Houston on Tuesday, saying the strong Democratic turnout in early voting, "It's amazing. And unlike anything I remember."
A close Republican primary race Tuesday could be for land commissioner, where George P. Bush was the first member of his family to win his first election four years ago but drew an unlikely challenger in Jerry Patterson, a former Bush supporter who preceded him as land commissioner. Bush has been backed by Trump, but a loss would mean that no one from his family's political dynasty would be in elected office.
Another key contest is the Democratic gubernatorial primary, where the top two contenders in a crowded field are former Dallas County Sherriff Lupe Valdez, backed by the party's establishment, and Andrew White, who opposes abortion and whose father, Mark, was governor in the 1980s. Neither White nor Valdez may win a majority of Tuesday's votes, though.
Abbott has an eye-popping $43 million in campaign cash, tops among gubernatorial hopefuls nationwide, and isn't expected to be seriously challenged by any Democrat.
___
Eds: Associated Press reporters Jamie Stengle in Dallas and John L. Mone in Houston contributed to this report.
Follow Will Weissert on Twitter: https://twitter.com/apwillweissert